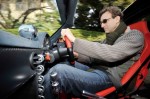 How Japanese Cars Changed the World: An Insider's Look
Date: Mar 22, 2016
Source: Japan Society, Photo by Peter Lyon.
Japan brought us the hybrid car, the Gran Turismo driving game, drifting, Speed Racer, and now the world's first production fuel-cell car. Japanese innovations inspired high-end European automakers to realize more reliable, better handling cars.
Continue reading »