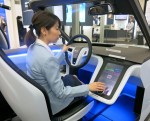 New sensor tech gives drivers control with a glance or gesture
Date: Oct 9, 2014
Source: Nikkei Asian Review
TOKYO — Alps Electric's new driver assistance system lets motorists control their car's heads-up display with a glance and lock or unlock the doors with the mere wag of a finger.
The new Premium Cockpit system features an updated version of Alps' heads-up display, which shows the speed and route on the windshield in front of the driver. The display uses a newly developed laser light source to produce a clearer image, even in bright settings. Alps recently began mass-producing the display, and U.S. and European automakers are expected to debut the technology in their new models starting in 2015 and 2016.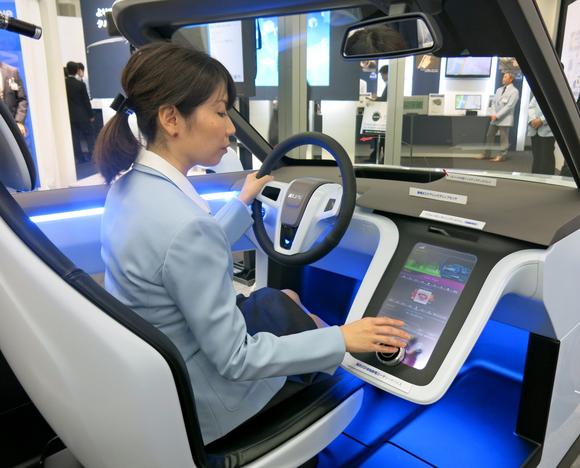 With Alps Electric's Premium Cockpit, drivers can control the car's heads-up display with their eyes.
The system uses sensors to detect the movements of the driver's eyes, then uses the data to select and change what is shown on the heads-up display. The display can also be controlled using hand motions or by gripping the steering wheel more tightly.
The door locks can be controlled by waving a ringlike wearable gadget worn on the finger.
Additionally, a built-in safety feature prevents the driver from falling asleep at the wheel. A sensor in the driver's seat monitors heart rate, and, in conjunction with data from the sight-line sensor, provides a warning when a driver appears to be nodding off.
---
Alps Electric to Exhibit at CEATEC JAPAN 2014
Date: Oct 1, 2014
Source: Alps Electric Co., Ltd.
The Alps booth exhibited the latest products and technologies created with Alps Electric's original technologies for each of the Automotive, Smartphones and Wellness, and Environment & Energy markets.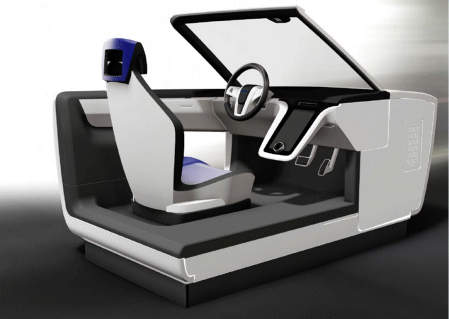 The Automotive Zone showcased an original vehicle cockpit equipped with a variety of modules combining core Alps technologies, such as a large-screen head-up display (HUD), gaze detection, and driver monitoring. The themes will be safety, comfort, and peace of mind.
18-inch full-color head-up display (HUD)
Steering grip
Vital sign sensing
Gaze detection system
Simple gesture input, etc.