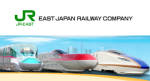 JR East to bid for California rail project
Date: Sep 4, 2014
Source: NHK World
The chairman of East Japan Railway has expressed his strong intention to bid for a high-speed rail system in California.
The super-express rail system between San Francisco and Los Angeles is expected to be completed by 2029. The bidding is due to take place later this year.
Continue reading »