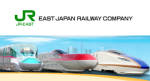 JR East to bid for California rail project
Date: Sep 4, 2014
Source: NHK World
The chairman of East Japan Railway has expressed his strong intention to bid for a high-speed rail system in California.
The super-express rail system between San Francisco and Los Angeles is expected to be completed by 2029. The bidding is due to take place later this year.
In a speech in Washington on Thursday, East Japan Railway Chairman Satoshi Seino stressed the safety of shinkansen trains in earthquakes and other natural disasters. He said East Japan Railway wants to contribute to the development of the American rail system.
East Japan Railway has formed a consortium with train car maker Kawasaki Heavy Industries and other Japanese firms to prepare for the bidding. Seino told reporters that the consortium will come up with proposals that would meet the needs of the American rail system.
Intense competition is expected for the project. Corporate groups from Germany, France, China and South Korea are also showing interest.

---
Social Innovation through Railroad Innovation: Japan's Experience and Possibilities for U.S.-Japan Cooperation
Source: U.S.-Japan Research Institute's Event
Half a century ago, just before the Tokyo Olympic Games in 1964, the world's first high speed railway, the "Shinkansen", started its operation. The Shinkansen railroad network has expanded steadily since its birth, and will connect all of Japan from north to south with the opening of the Hokuriku Shinkansen in 2015 and the Hokkaido Shinkansen in 2035. JR East's railroad lines spread widely throughout the Eastern Japan area, which is approximately 440 miles from north to south. There are 300 to 400 Shinkansen trains per day, which have maximum speeds of 200 miles per hour and connect major cities in the area within, at most, about three hours.
Additionally, JR East urban railway lines have the responsibility of being the essential transportation infrastructure in Tokyo, the world's largest mega city with 33 million people and an annual GDP of 1.8 trillion USD. The JR East network includes approximately 700 miles of railroad line within a 30-mile radius from central Tokyo, and trains operate at two-minute intervals during the peak time.
Nowadays, Japanese railroads support local economies, societies, and people's daily lives as a nationwide arterial network. This is because Japanese railroads have changed along with the development of the country, and have continued train service and made technological innovations to fit Japanese local needs, climate, and culture throughout the long history of the railroads. In this half century, the Shinkansen has accomplished energy saving, noise reduction, and an increase in operation speed from 125 miles per hour to 200 miles per hour. The Shinkansen has never had any fatal accidents in situations such as earthquakes and typhoons. Urban railroad lines have innovated their service also, such as by introducing IC cards and expanding station retail businesses, while maintaining and improving the safety and punctuality of the trains. Japan, which introduced its first railroad system 130 years ago and developed high speed railroads 50 years ago, regards railroads as social infrastructure of the country, and has grown its railroad systems by collecting the knowledge and wisdom of each era.
In this session, we will review the current history of Japanese railroads, including the Japanese National Railways reform of 1987, which has been called the largest reform of a governmental body since WWII. We will introduce services and technologies that JR East has innovated, from transport businesses such as high speed rail and urban railroads, to non-transport businesses, such as station retail businesses and the Suica IC card, and will explain JR East's role in country development by making use of its basic strengths.
Finally, we will discuss whether there is any indication that this could contribute to innovation in US society, whether there is any area where contributions can be made to both railroads and society by cooperation between the US and Japan, and whether there is any way in which JR East can support US railroads.