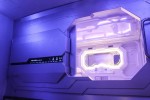 The Coolest-Looking Capsule Hotels Outside Japan
Date: Jul 11, 2017
Source: kotaku.com By Brian Ashcraft
The first capsule hotel in the world opened in Osaka, Japan in 1979. Since then, capsule hotels have not only spread to across the country but around the world. Here are some of the coolest-looking ones that aren't in Japan.
Continue reading »