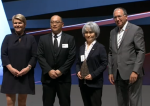 Outstanding inventors honoured with the European Inventor Award
Date: June 11, 2015
Source: European Patent Organisation
The EPO today presented the European Inventor Award 2015 in the heart of Paris. The prestigious annual award, now in its 10th year, honours outstanding inventors who through their work have made an exceptional contribution to social development, technological progress and economic growth. More than 400 guests from the worlds of politics, business and academia attended the award ceremony at the Palais Brongniart, the historical Paris stock exchange.
Continue reading »