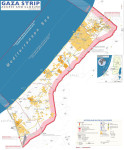 Japan Pledges $5m in Aid to Gaza Strip Amidst Fears Egypt is Blocking Supply Trucks
Date: Jul 26, 2014
Source: International Business Times – by Tabatha Kinder
Japan will give $5.5m (£3.2m) in emergency humanitarian aid to residents of the Gaza Strip, it has been announced.
The number of casualties in the small self-governing enclave is growing each day as the result of fighting between Israel and Hamas militants. The Gaza death toll passed 840 on Friday ‒ the eighteenth consecutive day of fighting.
Continue reading »