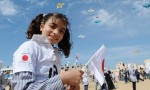 FROM GAZA TO JAPAN, A MESSAGE OF SOLIDARITY
Date: Mar 12, 2014
Source: UNRWA
Gaza – On the third anniversary of the most powerful earthquake ever to hit Japan, a message of continued solidarity and strength was carried there on the wind from the Gaza Strip. One thousand Palestine refugee students from UN Relief and Works Agency (UNRWA) schools in Gaza gathered to fly kites in commemoration of the disaster that killed thousands of people and caused immense damage.
The UNRWA students in Gaza were joining the 3.11 Fly! Kites of Hope campaign first organized by Akihiko Nara in Japan. In a message, Mr. Nara said the idea for the 3.11 campaign had come to him after reading an article about a Guinness record-breaking event in Gaza where 13,000 kids gathered to fly kites. Noting the respite that the UNRWA summer games had created for children in such difficult circumstances, he said: "Children in the 3.11 disaster area had been in the same situation. I thought it could be a good chance to commemorate the victims of the horrible disaster."
The gathering in Gaza opened with a message from Hiroyuki Kajikta, First Secretary of the Representative Office of Japan to the Palestinian Authority. He said: "We do appreciate all the encouragement which you have extended to us, especially the warm messages sent by Palestinian children to Japanese children showing their solidarity and deep friendship. Children of Gaza are suffering a lot from the blockade and current distress, but this didn't stop them from thinking about other children who are suffering in other parts of the world." Tetsuya Nakamura, the Programme Manager of Campaign for Children in Palestine, a Japanese NGO working to support agriculture in Gaza, also spoke, saying: "Kiting can carry our grief, condolence, love and hope."
Two young UNRWA students also spoke, 13-year-old Bissan Ziad Atallah, an eighth-grade student at the al-Amal girls' preparatory school, and 11-year-old Rami Ehsan Zoraiq, in the sixth grade at Khan Younis Preparatory Boys' School B. Their message was simple: "We send our love and support to the people of Japan telling them that we will never forget that terrible day in 2011… We look up to the Japanese people as a remarkable example for freedom, liberty, and justice. Now we fly our Kites of Hope in the sky praying for love, peace and safety to Japan and its great people."
Scott Anderson, Deputy Director of UNRWA Operations in Gaza, noted that the event highlighted the close relationship between Japan and UNRWA in Gaza, saying that even while recovering from the earthquake and tsunami, Japan had not abandoned its support for Palestine refugees in Gaza. He said: "Despite being on different sides of the world today, the children of Gaza will be sending messages of support and solidarity to the children of Japan, showing solidarity and sharing hope with each other. It is my hope that the kites in the sky today will also be sending a message to the rest of the world that children in Gaza deserve to enjoy the childhood that other children do, and to live with dignity and full respect for their rights, which can only be brought about by an end to the blockade."
After the speeches, the 1,000 children let their kites fly high in the sky above Gaza, carrying their message of support and strength to their friends in Japan.
---
For more photos check out this page. UN mark second anniversary of 2011 Japanese earthquake in Gaza.