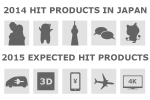 Dentsu Announces "2014 Hit Products in Japan"
Date: Nov 27, 2014
Source: Dentsu Inc.
– The movie "Frozen," talking mascot characters and Tokyo Skytree chosen as the top three –
Dentsu Inc. announced today the release of its "2014 Hit Products in Japan" report. Produced as part of a series that has been chronicling hit products since 1985, the latest report examines major trends that represented the consumer mindset in 2014. It is based on an Internet survey of Japanese consumers carried out in November 2014 by Dentsu Macromill Insight, Inc.
Continue reading »