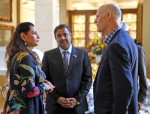 Kansai Paint Group Announces First Ever Anti-Mosquito Paint Approved By the EPA
Date: April 18, 2018
Source: Kansai Paint Co., Ltd.
TROY, Mich. – Kansai Paint Group, a global manufacturer of paints and coatings, (Head office: Osaka Japan, President and CEO: Hiroshi Ishino) has announced approval from the U.S. Environmental Protection Agency (EPA) for its Kansai Anti-Mosquito Paint. The Kansai Anti-Mosquito Paint is designed for interior use and contains a synthetic pyrethroid insecticide.
Continue reading »