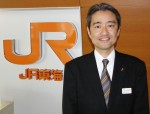 Central Japan Railway Co (JR Central)
Masahiro Nakayama, General Manager, International Dept
Date: May, 27, 2013
Source: JAPANTODAY – By Chris Betros
One of Japan's best-known icons would have to be its bullet trains or shinkansen which are a marvel of technological achievement. Central Japan Railway Co, better known as JR Tokai or JR Central, operates the Tokaido Shinkansen. Its high-speed rail technology is in demand overseas.

Continue reading »