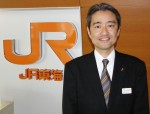 Central Japan Railway Co (JR Central)
Masahiro Nakayama, General Manager, International Dept
Date: May, 27, 2013
Source: JAPANTODAY – By Chris Betros
One of Japan's best-known icons would have to be its bullet trains or shinkansen which are a marvel of technological achievement. Central Japan Railway Co, better known as JR Tokai or JR Central, operates the Tokaido Shinkansen. Its high-speed rail technology is in demand overseas.

Handling international operations is Masahiro Nakayama, General Manager, International Department of the Corporate Planning Division. Nakayama joined JR Tokai in 1990. He worked as a shinkansen train crew member in the initial stage of his career and then joined the company's hotel division where he spent 19 years, including four of those in the United States.
Japan Today visits him at the JR Central headquarters at Tokyo's Shinagawa Station to hear more.
What lines does JR Central operate?
We operate the Tokaido Shinkansen from Tokyo to Osaka and we also operate conventional lines in the central Japan region—the Nagoya and Shizuoka areas. For the Tokaido Shinkansen, we carry around 390,000 passengers every day on average.
Was 2012 a good year for you?
Fiscal 2012 was a good year for JR Central. Tokaido Shinkansen passenger volume has increased by 6% over fiscal 2011. After the March 11, 2011 disaster, the number of passengers dropped because many economic activities stopped. It took a few months to recover passenger numbers. Also last year, our non-rail business, including the hotel business, grew.
Tell us about the shinkansen lines.
Shinkansen tracks are made exclusively for bullet trains. No other trains use them and there are no level crossings. JR Central offers three different services. The fastest one is Nozomi – it only stops at major stations such as Tokyo, Shinagawa, Shin-Yokohama, Nagoya, Kyoto and Shin-Osaka. There are 10 services per hour during the peak hours. We also have two Hikari services, which stops at a few additional stations and two Kodama services, which stops at every station. The top speed of the all the trains is 270 kph. From Osaka on to Hakata and Fukuoka – a service is operated by JR West – the speed rises to 300 kph. All the regular Nozomi services are operated by the Series N700 or N700A. We started the operation of the newest Series N700A from February this year.
What anti-earthquake measures do you have in place?
We have been investing in that area even before the 2011 disaster. We have developed a very sophisticated high-technology detection system called TERRA-S (Tokaido Shinkansen Earthquake Rapid Alarm System) to safely bring all train operations to a halt. It detects primary waves, which travel faster than secondary waves and makes real-time computation to identify the scale of the quake and its epicenter. We have installed earthquake detectors on 21 points to ensure full coverage of the Tokaido Shinkansen.
In addition, we started implementing derailment and deviation prevention measures such as derailment prevention guards, which are installed parallel to and on the inside of rails in sections. The deviation prevention stoppers are installed in the center of shinkansen rolling stock bogies. These measures are taken to further strengthen seismic resistance.