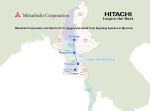 Mitsubishi Corporation and Hitachi Ltd. To Supply and Install Train Signaling Systems in Myanmar
Date: May 18, 2015
Source: Mitsubishi Corporation
Mitsubishi Corporation (MC) and Hitachi Ltd. (Hitachi) are pleased to announce the conclusion of a contract to supply and install railway signaling systems in Myanmar. The contract, signed with Myanma Railways on May 15, 2015, amounts to approximately 2.4 billion yen and will be covered by grant aid from the Japan International Cooperation Agency (JICA). Completion of the project is scheduled for June 2017.
Continue reading »