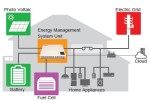 Murata Joins Singapore's EcoCampus Initiative
Date: Nov 26, 2014
Source: Murata Manufacturing Co., Ltd.
Murata Manufacturing Co., Ltd. and the Nanyang Technological University (NTU Singapore) signed a Research Collaboration Agreement on 14 November 2014. This marks Murata's entry into the EcoCampus research program, led by the Energy Research Institute at NTU (ERI@N). The NTU Singapore's EcoCampus initiative is a novel campus-wide sustainability framework with demonstration sites to achieve 35% reduction in energy, water, and waste intensity by 2020, transforming the university campus into one of the most environmentally friendly university campuses in the world.
Continue reading »