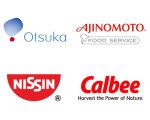 Japan's food giants look to south-east Asia for growth
Date: May 15, 2014
Source: just-food – by Julian Ryall
Japanese food manufacturers are targeting countries in south-east Asia as key export markets. As they extend their presence in the region, Japan's food exporters hope to benefit from the perceived sophisticated, fashionable and healthy image of Japanese food products. Julian Ryall reports.

Continue reading »