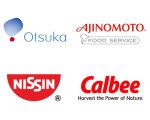 Japan's food giants look to south-east Asia for growth
Date: May 15, 2014
Source: just-food – by Julian Ryall
Japanese food manufacturers are targeting countries in south-east Asia as key export markets. As they extend their presence in the region, Japan's food exporters hope to benefit from the perceived sophisticated, fashionable and healthy image of Japanese food products. Julian Ryall reports.

Growth may hard to come by at home but Japanese food manufacturers believe they are find rewards further south, with consumers in south-east Asia acquiring similar habits to the domestic market.
Otsuka Pharmaceutical Co., a food-to-healthcare group that manufacturers soy food products, believes rising wealth in markets in the region has led to shoppers considering a whole range of factors when buying food.
"Incomes in south-east Asia are steadily increasing and consumers there are more frequently making purchase decisions using the same or similar criteria as consumers in more mature markets such as Japan," a spokesman for the nutraceuticals division of Otsuka Pharmaceutical Co. tells just-food. "They are now factoring taste and other quality criteria – including healthy eating choices, time availability, environmental impacts and so on – into their decisions."
Working with local partners in Indonesia, Thailand, Singapore, Vietnam and the Philippines, Otsuka is marketing its baked soybean health snack, Soyjoy, in the region. "Our Indonesian business is enjoying dynamic growth and we are making considerable efforts to build a long-term presence in the other countries," the spokesman says.
Otsuka is carrying out market research in other countries in the region at present and plans to enter "two or three" new south-east Asia markets in the next two years. "The south-east Asian markets are booming and we believe that now is an excellent time to expand," he adds.
It is a similar story for many other Japanese companies, which are looking for alternative sources of revenue as Japan's population and consumption contracts.
In April, Nissin Food Holdings announced it is planning a 70% increase in the number of its instant noodle production lines by 2025, mostly in Japan but also in China with a potential plant in North Africa. The expansion is to serve overseas markets, including south-east Asia.