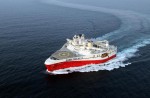 PGS Reveals the Ultimate Seismic Acquisition Platform
News Source: Petroleum Geo-Services
Safety, efficiency and productivity are the key features of the 24-streamer Ramform Titan which was named today at MHI(Mitsubishi Heavy Industry) yard in Nagasaki, Japan.
The new ship will be the most powerful and efficient marine seismic acquisition vessel ever and the widest ship in the world at the waterline. Safety and productivity have been the main focus points for her design. She is the first of four such vessels to be built in Japan.

Continue reading »