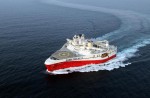 PGS Reveals the Ultimate Seismic Acquisition Platform
News Source: Petroleum Geo-Services
Safety, efficiency and productivity are the key features of the 24-streamer Ramform Titan which was named today at MHI(Mitsubishi Heavy Industry) yard in Nagasaki, Japan.
The new ship will be the most powerful and efficient marine seismic acquisition vessel ever and the widest ship in the world at the waterline. Safety and productivity have been the main focus points for her design. She is the first of four such vessels to be built in Japan.

The design dovetails advanced maritime technology to the imaging capabilities of the GeoStreamer® seismic acquisition technology. Her 70 meter broad stern is fully exploited with 24 streamer reels: 16 reels aligned abreast and 8 reels further forward. Increased work space and advanced equipment mean safer and even more robust operations.
For PGS and its clients, more rapid deployment and retrieval of equipment, as well as greater operational capacity will translate into faster completion of surveys and increased uptime in marginal weather. The period between major yard stays is also extended by 50%.
The Ramform Titan sets the new standard for seismic operations for the next 20 years.
Jon Erik Reinhardsen, President and CEO of PGS states in a comment:
"The Ramform Titan takes seismic acquisition to a new level. We have combined the most sophisticated technology in the business, with the most powerful and most efficient vessel in the industry. Ramform Titan further strengthens our fleet and will give us a clear competitive edge for the next decade."
Ramform Titan is equipped with 24 reels with capacity for 12 km streamers, which give her tremendous flexibility and redundancy for high capacity operations. She carries over 6000 tons of fuel and equipment. She will typically tow a network of several hundred thousand recording sensors over an area greater than 12 km2, equivalent to nearly 1500 soccer pitches, or 3.5 times Central Park.
Ramform Titan provides a safe and comfortable living and working environment for up to 80 crew members, with 60 single cabins, and 10 twin cabins for visitors, all with separate bathrooms.
Magne Reiersgård, EVP Operations, states:
"We are very excited at the prospect of welcoming the first Ramform Titan class into operations. There has been enormous market interest for the vessel, and we look forward to leveraging the high productivity, efficiency and safety that this new vessel is expected to bring. Ramform Titan will spend her first season working on MultiClient projects in the North Sea. We expect to set more industry records for operational efficiency. This is a fantastic day for PGS and a great addition to the fleet."
Continue reading »
---
Please check the
Boats & Ships
product.