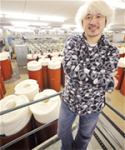 By developing unique spun yarns and knit products, the company became a global luxury brand.
Source: The Japan Machinery Federation
Summary
Mr. Sato assumed the position of fourth president in 2000 and started research and development of special fiber. He succeeded in reducing the thickness of a mohair fiber made of Angola-goat hair to 1/2 of the conventional limit and in spinning a 52m thread from 1g of the material. High skill was required to produce knit yarn made of 100% mohair because mohair was too slippery to spin but by modifying his old spinning machines, he produced mohair fiber that kept the delicate soft feeling of original material. This fine mohair fiber was used for a Nina Ricci cardigan, which First Lady Michelle Obama wore at the inauguration ceremony of President Obama, and attracted people's attention. This company spins fibers, manufactures knit products and apparel and performs all the processes from development of fiber to manufacturing of products for itself. The company continuously exhibited its products at the world's largest exhibition for knit materials in Italy and became one of the top brands in Europe and the U.S.

Continue reading »