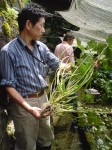 Wasabi: A Visit to Its Birthplace in Shizuoka!
Source: Shizuoka Tourism
The other day I received a phone call from my good friend Dominique Corby, the Chef/Manager of Michelin-starred 6eme Sens in Tokyo.
He told me that the French/German ARTE TV Channel was coming to Shizuoka City on September 12th~13th to make a long report on green tea (Shizuoka produces 45% of all green tea in Japan), wasabi (Shizuoka produces 80% of all wasabi in Japan) and the fishing industry in our Prefecture (they will visit the Fishing Harbour of Yaizu City)!

Continue reading »