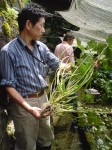 Wasabi: A Visit to Its Birthplace in Shizuoka!
Source: Shizuoka Tourism
The other day I received a phone call from my good friend Dominique Corby, the Chef/Manager of Michelin-starred 6eme Sens in Tokyo.
He told me that the French/German ARTE TV Channel was coming to Shizuoka City on September 12th~13th to make a long report on green tea (Shizuoka produces 45% of all green tea in Japan), wasabi (Shizuoka produces 80% of all wasabi in Japan) and the fishing industry in our Prefecture (they will visit the Fishing Harbour of Yaizu City)!

He wished to enroll my help to "prepare the ground" for the TV crew as I was not only living in Shizuoka City, but knew my wasabi well! He didn't have to ask twice!
So on Thursday and Friday 12th and 13th, a third Musketeer, Stephane Danton of Ocharaka, a French specialist of green tea in Kanagawa Prefecture who exports green tea from Kawane Honcho in Shizuoka, joined us in a rented car and we left on a grand mission!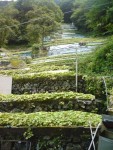 We did spend the whole Thursday following Stephane in tea growing farming homes and communities as the rain just made it impossible to visit the wasabi fields in altitude!
So we left early in the morning on Friday from Shizuoka City in blistering heat.
The ride is not that hard, 18 km along the Abe River and 3 more km up in altitude, what with the beautiful vistas between high steep forested mountains.
We reached Utogi at around 11:00 am. where Mr. Yuma Mochizuki was already waiting for us.
Mr. Yuma Mochizuki is the 10th generation of a celebrated wasabi growing family.
He presently owns 5 fields dispersed on in the Utogi Mountains, and is trying to buy more land in Fujinomiya City as the demand is growing and that there is simply no space left in Utogi!
Wasabi grows in the wild and has been consumed as a vegetable for eons.
It is only in the beginning of the 17th Century that a farmer in Utogi succeeded in growing the root that is so appreciated in the world.
Roots of a small size will develop in the wild after 2 or 3 years, but they are too sour and "green" to be consumed at all. Although its cultivation is purely organic/macrobiotic it does need the help of a human hand.
---
Please check the wasabi products