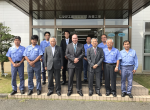 Barton returns from trip to Japan – Strengthening Ties
Date: Sep 19, 2017
Source: Journal Review – by Bob Cox bcox@jrpress.com
Crawfordsville Mayor Todd Barton landed in Indianapolis on Friday afternoon after a whirlwind seven-day trip to Japan.
The mayor was part of Indiana Governor Eric Holcomb's team that traveled to Japan to develop and strengthen economic development relationships, and he believes there was a level of success achieved.
The state is currently home to 280 Japanese companies. Columbus has 20 of those companies in its city. Barton said the governor told the Japanese businessmen he hoped to expand that number to more than 300 within a few years.
Awesome meeting in Okayama w/Hiruta Kogyo LTD, parent company of Heritage Products, to thank them for employing over 300 of our residents. pic.twitter.com/4oNN3YxbZC

— Mayor Todd Barton (@todd_barton) September 14, 2017
When Mayor Todd Barton was in Okayama, Japan he met with Hiruta Kogyo Co., Ltd. officials, which is the parent company of Heritage Products.

Before the trip, Barton had been told that relationships are important to Japanese leaders. After having a few days to reflect on that statement, the mayor is now a firm believer that relationships are a key to economic development.
Barton visited the corporate headquarters of Heritage Products, which employees 300 local residents. Although he had met some of the corporate officers in his own office, he said the fact he met them at their corporate headquarters was more important.