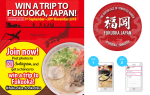 Fukuoka Pref. Government Start Tonkotsu Ramen Campaign to Promote Fukuoka's Gourmet to the World
Date: Oct 8, 2018
Source: Fukuoka Prefectural Government Japan Tourism Promotion Division
Fukuoka prefecture start a campaign using "Tonkotsu Ramen (Hakata Ramen)", one of the three big ramen (Kitakata Ramen, Sapporo Ramen and Hakata Ramen) in Japan, aiming to expand Fukuoka's gourmet to the world. Tonkotsu (based pork bones and other ingredients) Ramen is also referred to as Hakata Ramen, which is originated in Fukuoka Prefecture.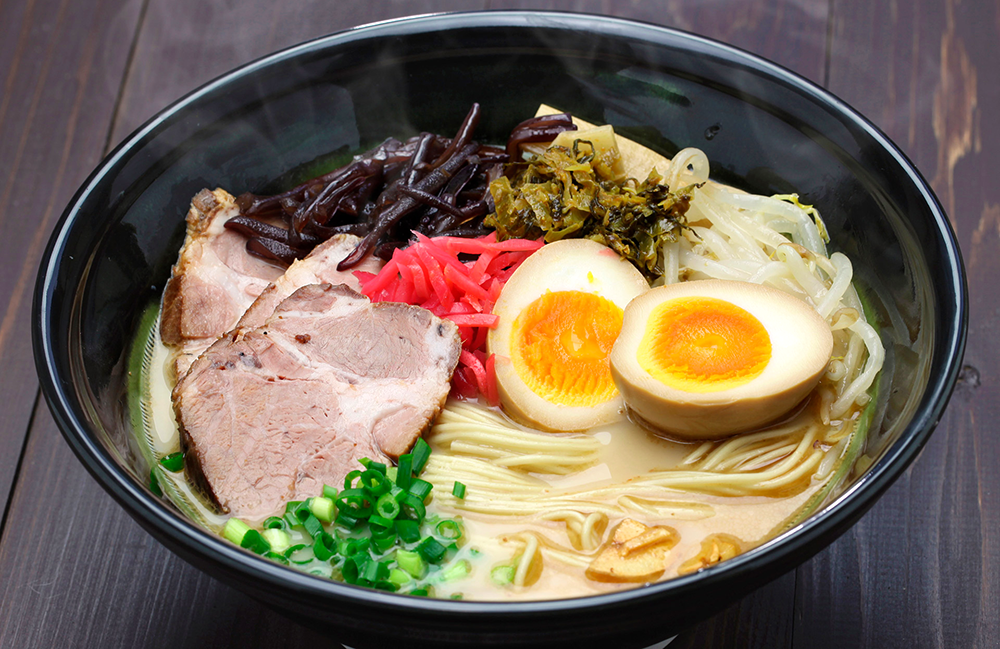 The soup broth is prepared by boiling pork bones in water for a significant amount of time, up to eight hours, and the broth is typically cloudy in appearance. The noodles used in Hakata (Tonkotsu) Ramen are straight noodles, unlike waved noodles used in other ramen. The reason is that Hakata ramen uses a very rich soup so straight noodles are used so that no thick soup is entangled with noodles.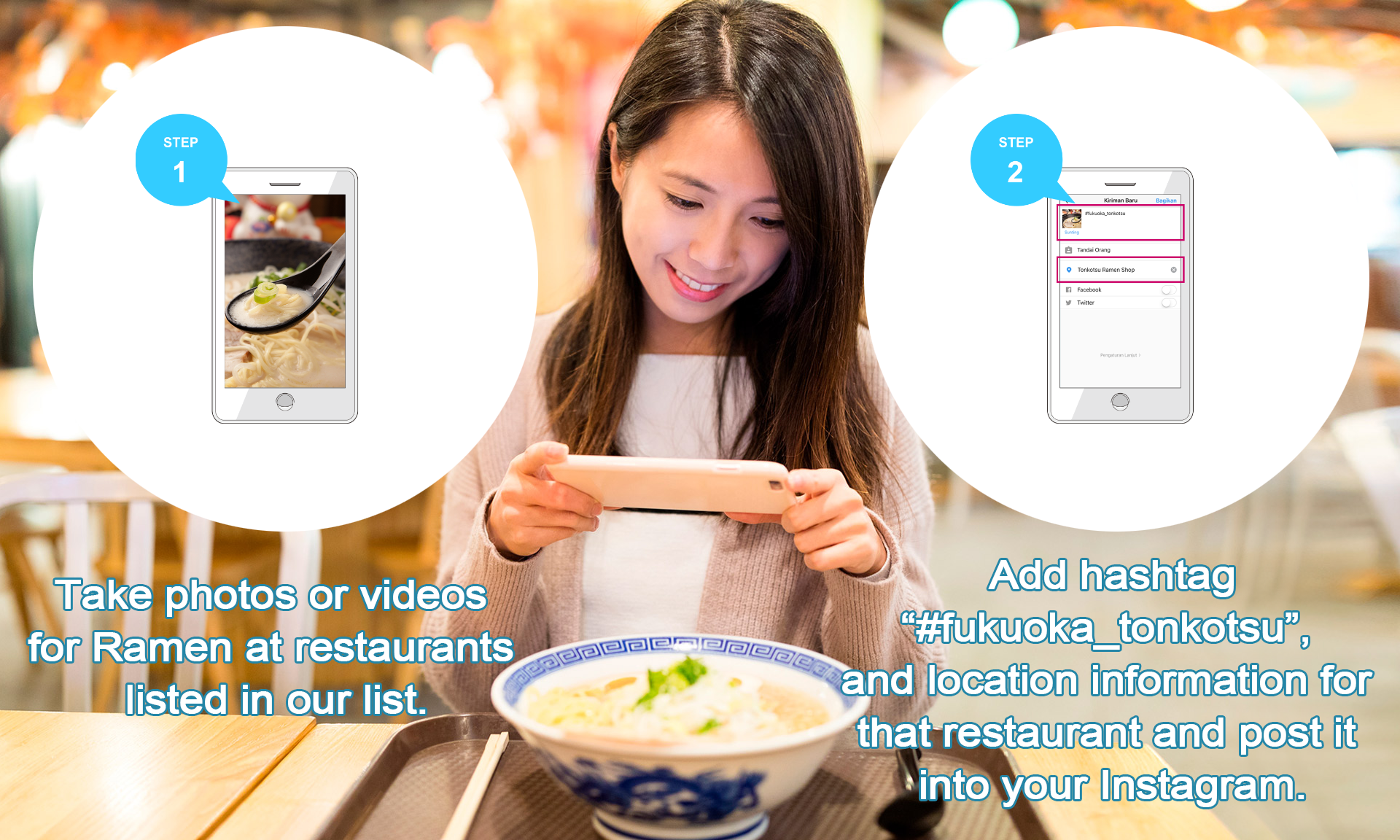 Let's apply the campaign NOW!! Just order the Tonkotsu Ramen at targeted restaurants listed below, and take photos or video shoot and add hashtag "#fukuoka_tonkotsu", and location information for that restaurant and post it into your Instagram.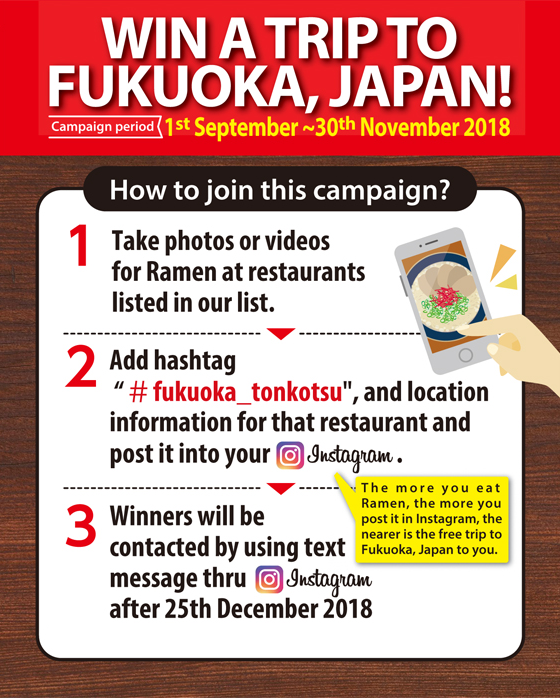 Winners will be selected through impartial examination process by the campaign organizer. A direct message will be sent to the winners via Instagram from organizer official account.
Grand prize
4 Nights Fukuoka, Japan Trip for 4 People in Total
Announcement will be given after 25th December 2018
Sub-prize
Fukuoka Assorted Set (Fan, Purse, Mini towel, Snacks etc.)
Winners (3 people in September, 3 people in October, 4 people in November) will be selected each month during the campaign period.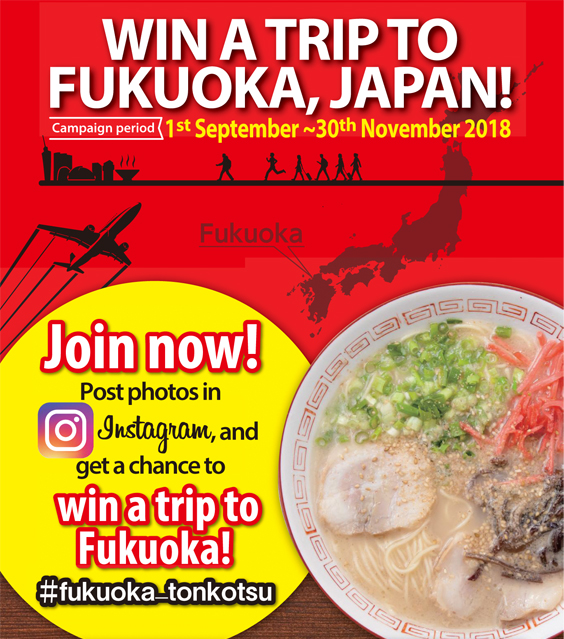 Tonkotsu Ramen Campaign Outline
Campaign period: September 2018 to 30th November 2018
Participating countries and regions: Hong Kong, Taiwan, Thailand, Indonesia, England, France, Australia, and the United States
Participating ramen restaurants (listed in no particular order): 一蘭 (Ichiran), 博多一幸舎 (Hakata Ikkousha), 一風堂 (IPPUDO), 金田家 (Kanada-ya), SHORYU, 龍の家 (Tatsu no ya), 筑豊ラーメン山小屋 (Chikuho Ramen Yamagoya), ばさらか (Basaraka), HAKATA GENSUKE and MENYA KEISHI
Campaign details: Add the hashtag "#fukuoka_tonkotsu," and location information for that restaurant to a photo or video of tonkotsu ramen taken at a participating restaurant in any of the countries involved in the promotion and then post it on Instagram. The winner will be chosen by lottery out of all those who enter.
– Please check the website below for more information about the campaign.
Results: Winners will be notified via direct message on Instagram after December 25th.
Prizes: A five day four night trip to Fukuoka (scheduled for February 2019) (four prize winners) / local Fukuoka products (10 prize winners)
Official Campaign website
Instagram : #fukuoka_tonkotsu
Official Facebook (English) : Fukuoka Prefectural Government Japan Tourism Promotion Division (>> CLICK HERE!)
87 restaurants are participating in this campaign
US
ICHIRAN NY Brooklyn
374 Johnson Ave. Brooklyn, NY 11206
ICHIRAN NY Midtown West
132 west 31st Street Mew york, NY 10001
IPPUDO – BERKELEY
2015 Shattuck Ave Berkeley CA94704
IPPUDO – EAST VILLAGE
65 Fourth Avenue (Between 9th and 10th Street), New York, NY 10003
IPPUDO – WESTSIDE (Midtown)
321 West 51st Street, (Between 8th and 9th Avenue), New York, NY 10019
HAKATA IKKOUSHA – Costa Mesa SHOP
3033 Bristol St Suite O, Costa Mesa
HAKATA IKKOUSHA – Torrance SHOP
21605 S Western Ave, Ste J, Torrance, CA 90501
HAKATA IKKOUSHA – LA Little Tokyo SHOP
368 E 2nd street Los Angles Ca 90012
HAKATA IKKOUSHA – Lake Forest SHOP
22611 Lake Forest Dr #C1, Lake Forest, CA 92630
RAMEN TATSUNOYA – Old Town Pasadena
16 N Fair Oaks Avenue, Pasadena,CA 91103″
UK
IPPUDO – Central Saint Giles
3 Central Saint Giles Piazza Saint Giles High Street London WC2H 8AG
IPPUDO – Canary Wharf
Unit CR 28, Level Minus One Crossrail Station and Retail Mall, 1 Crossrail Place London E14 5AR
YAMAGOYA – Shaftesbury Avenue
1st Floor Shuang Shuang, 64 Shaftesbury Avenue, London W1D, United Kingdom
YAMAGOYA – Cut
49 the Cut, London, United Kingdom, London SE1 8LF, United Kingdom
SHORYU RAMEN – Air Street – Shoryu go
19 Air Street, London, W1B 5AG
SHORYU RAMEN – Carnaby
G3-5 Kingly Court, London, W1B 5PJ
SHORYU RAMEN – Covent Garden
35 Great Queen Street, London, WC2B 5AA
SHORYU RAMEN – Liverpool Street
33 Broadgate Circle, London, EC2M 2QS
SHORYU RAMEN – Manchester
1 Piccadilly Gardens, Manchester, M1 1RG
SHORYU RAMEN – New Oxford Street
84 New Oxford Street, London, WC1A 1HB
SHORYU RAMEN – Regent Street
9 Regent Street, London, SW1Y 4LR
SHORYU RAMEN – Soho
3 Denman Street, London, W1D 7HA
SHORYU RAMEN – Westfield Stratford
1 Fresh Food, Great Eastern Market, Westfield Stratford City, E20 1G
SHORYU RAMEN – Shoreditch
45 Great Eastern Street, London, EC2A 3HP
SHORYU RAMEN – Oxford
134 The Westgate, Queens Street, Oxford, OX1 1PB
Australia
IPPUDO – WESTFIELD
5021/188 Pitt St, Sydney NSW 2000, Australia
IPPUDO – CENTRAL PARK
28 Broadway, Chippendale NSW 2008, Australia
IPPUDO – MACQUARIE
Shop No. 404B, Level 4, Macquarie Centre, Corner of Herring and Waterloo Roads, North Ryde, NSW 2113
IPPUDO – CHATSWOOD
Restaurant 77A, The District Podium Level, Chatswood Interchange,, 436 Victoria Ave, Chatswood NSW 2067, Australia
HAKATA GENSUKE – CBD SHOP
168 Russell Street Melbourne Victoria 3000, Australia
HAKATA GENSUKE – Hawthorn SHOP
Tenancy 4, 860-862 Glenferrie Rd, Hawthorn 3122, Victoria Australia
HAKATA GENSUKE – Westfield Doncaster SHOP
FC8/619 Doncaster Rd, Doncaster VIC 3108, Australia
HAKATA GENSUKE – QV SHOP
200 Lonsdale Street Melbourne VIC 3000, Australia
HAKATA GENSUKE – Perth SHOP
850 Albany Hwy, East Victoria Park WA 6101, Australia
France
IPPUDO – Saint-Germain
14 rue Grégoire de Tours, 75006 Paris
Ippudo – Louvre
74-76 rue Jean-Jacques Rousseau, 75001 Paris
Hong Kong
一蘭 – 香港銅鑼灣店
香港 銅鑼灣謝斐道440號駱克大廈A座地下F-I舖
一蘭 – 香港尖沙咀店
香港 九龍 尖沙咀 棉登徑8號 地庫 B舖 及 地下入口大堂
有關一風堂 – 銅鑼灣
羅素街8號2樓
有關一風堂 – 中環
中環德己笠街1-13號世紀廣場3樓
有關一風堂 – 金鐘
金鐘道93號金鐘廊1樓Lab ConceptF04-F06舖
有關一風堂 – 尖沙咀
廣東道30號新港中心2樓210號鋪
有關一風堂 – 旺角
旺角亞皆老街8號朗豪坊4A樓5號舖
有關一風堂 – 九龍灣
九龍灣德福廣場G54A1舖
KANADA-YA
G/F, 34 Tang Lung Street, Causeway Bay, Hong Kong
KANADA-YA
SHOP 1023, LEVEL 1, YOHO MALL I, 9 LONG YAT ROAD, YUEN LONG, NEW TERRITORIES.
KANADA-YA
G/F, Shop No.9A, Hunghome Bay Centre, Hunghom, Kowloon, Hong Kong
KANADA-YA
Shop Nos. UG28 & 30, Upper Ground Floor, Citywalk, 1 Yeung Uk Road, Tsuen Wan, N.T.
Taiwan
一蘭 – 台湾台北本店
臺北市信義區松仁路九十七號「2號交易廣場」1樓A室房屋
一蘭 – 台湾台北本店別館
臺北市信義區松寿路11号B1(新光三越A11)
拉麵餐廳 / 一風堂中山本店
台北市中山區中山北路一段85號1樓
拉麵餐廳 / 一風堂信義三越 A8 店
台北市信義區松高路12號B1
拉麵餐廳 / 一風堂微風台北車站店
台北市中正區北平西路3號2樓
拉麵專門店 / 一風堂竹北店
新竹縣竹北市光明一路102號1樓
一風堂大魯閣草衙道店
高雄市前鎮區中安路1之1號 (大魯閣草衙道購物中心:大道東3F- E13出口)
拉麵餐廳 / 一風堂漢神巨蛋店
高雄市左營區博愛二路777號B1
拉麵餐廳 / 一風堂台南西門店
台南市中西區西門路一段658之1號B2
拉麵餐廳 / 一風堂台中三越中港店
台中市西屯區台灣大道三段301號10樓
拉麵專門店 / 一風堂桃園高鐵店
桃園市中壢區高鐵北路一段6號
博多一幸舎 台湾 竹北店
台湾新竹県竹北市県政二路245, No.245,Xianzheng 2nd Rd., Zhubei City, Hsinchu County
博多一幸舎 台湾 新竹店
台湾新竹市關新東路256號, No.256, Guanxin E. Rd., East Dist., Hsinchu City 300,Taiwan (R.O.C.)
山小屋 – 台南店
台南市東區東門路2段349
Thailand
IPPUDO – Central Embassy, Level 3
1031 Phloen Chit Rd, Pathum Wan, Khet Pathum Wan, Krung Thep Maha Nakhon 10330, Thailand
IPPUDO – Central Pinklao, 5th floor
1031 Phloen Chit Rd, Pathum Wan, Khet Pathum Wan, Krung Thep Maha Nakhon 10330, Thailand
IPPUDO – Central Bangna, B1 floor
1031 Phloen Chit Rd, Pathum Wan, Khet Pathum Wan, Krung Thep Maha Nakhon 10330, Thailand
IPPUDO – Emporium, 4th floor
1031 Phloen Chit Rd, Pathum Wan, Khet Pathum Wan, Krung Thep Maha Nakhon 10330, Thailand
IPPUDO – Silom complex, B floor
1031 Phloen Chit Rd, Pathum Wan, Khet Pathum Wan, Krung Thep Maha Nakhon 10330, Thailand
IPPUDO – Terminal 21, LG floor
1031 Phloen Chit Rd, Pathum Wan, Khet Pathum Wan, Krung Thep Maha Nakhon 10330, Thailand
HAKATA IKKOUSHA – Thonglor SHOP
323/3 J-Avenue Thonglor13 a103,A103_out 1floor, Sukhumvit 55 (soi thonglor 13) Bangkok Thailand 10110
Yamagoya – Thonglor
between thonglor 11-13 141 Sukhumvit Road Wattanna, Bangkok 10110
Yamagoya – ALL season place
202B 2nd Floor CRC tower , ALL season place, 87 wireless Road. Phatumuwan,Bangkok 10330
Yamagoya – the up
54/5 the up building rama3 B5-B6 Floor 1 Naratiwart Rd.chongsi yannawa Bangkok 10120
Yamagoya – Trinity
Trinity Complex silom soi5 bangrak
Basaraka Ramen – The Nine
999/3 The Nine Neigh borthood center building Room D203
Yamagoya – U chu Liang
U chu Liang Building 1stFl., 968 Rama 4 Rd., Silom Bangrak, Bangkok 10500
Basaraka Ramen – JamJuree
317 Jaturas JamJuree 2nd fl., 204 Phayatai. Pathumwan. Bangkok 10330
Basaraka Ramen – Phayatai
35 Wanasorn Building, 1st Fl., Sri-Ayudhya., Phayatai Rajtaevee, Bangkok 10400
Yamagoya – Suriwongs
98-102 Suriwongs Road Bangrak, Bangkok 10500
Indonesia
Ippudo – Pacific Place
Pacific Place 5th Floor. Unit 5.37 SCBD, Jl. Jend. Sudirman Kav. 52-53 Jakarta Selatan, Jakarta, Indonesia 12190
Ippudo- Central Park
Lower Ground unit L.124
Yamagoya Ramen – Pakuwon Mall
Pakuwon Mall, 2M floor unit 18-19."
Yamagoya Ramen – Baywalk Mall
Pluit Karang Ayu B1 Utara Lantai 2 Unit 21 No.12
Yamagoya Ramen – Pakuwon Trade Center
supermall pakuwon indah lantai 3 unit 1- 030. Surabaya
Yamagoya Ramen – Plaza Tunjungan
Plaza Tunjungan 4 # 5th Floor Unit 33-36 Jl. Embong Malang No.7-21 Surabaya
You can purchase instant tonkotsu ramen on shops below.