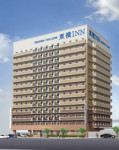 Toyoko Inn to open business hotels in Europe, US
Date: Aug 21, 2014
Source: Nikkei
TOKYO — As part of its Western expansion, business hotel operator Toyoko Inn plans to open hotels in Germany and France and possibly the U.S.
In doing so, it is building on an overseas adventure that already includes six hotels in South Korea and plans for a move into Cambodia next March.
Toyoko Inn's idea is to operate hotels like it does in Japan: focusing on businesspeople seeking inexpensive accommodations. It will offer rooms priced around 10% cheaper than comparable hotels in a given area.
The first of the hotels will open at the end of 2015 in Frankfurt, Germany. The eight-story hotel will feature 9,400 sq. meters of floor space and around 400 rooms. Figuring that 90% of the customers will be local businesspeople, pricing will start from about $50 per night for a single-occupancy room.
The company plans to open a hotel sometime in or after 2016 in France's southern city of Marseille.
Toyoko Inn is also considering advancing into the U.S. with business hotels in New York and other major cities. It will either construct its own hotels or operate them on behalf of building owners.