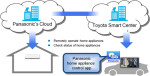 Toyota and Panasonic Co-developing Cloud Service that Links Cars to Home Appliances
Date: Jun 9, 2014
Source: Panasonic Corporation
Toyota City / Osaka, Japan, June 9, 2014 – Toyota Motor Corporation and Panasonic Corporation are jointly developing a service that links cars with home appliances. A new service will be launched as soon as the second half of this year.

As part of its ongoing efforts to make mobility smarter, more convenient and more comfortable, and as a way to increase the value cars add to lives, Toyota will leverage its cloud-based Toyota Smart Center, which links people, cars, and homes. The service already adds convenience and comfort to cars in the daily lives of Toyota drivers around the world.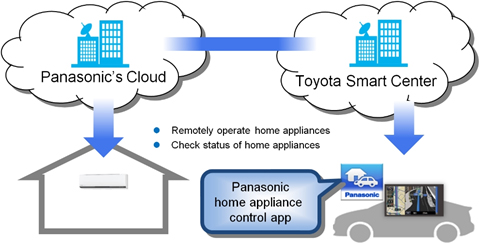 How the jointly-developed home appliance control system works
Panasonic is a pioneer in providing various smart home appliances such as televisions, video equipment, and air conditioners that support the creation of "A Better Life, A Better World" for each customer. The company is working to develop new smart homes that are environment-friendly and connected to a network to support better lifestyles.
Last June, the two companies agreed to co-develop services for next-generation telematics systems that link cars to home appliances. Since then, the companies have developed an interface to link their respective cloud services. They have also laid the groundwork for new services, including development of apps for in-car operation and status checking of home appliances. For example, an app linked with vehicle GPS data will remind the user to turn off the air conditioner before leaving and also enable the user to turn it on remotely from the vehicle before arriving home.
In the future, the two companies will continue to leverage their respective strengths and work towards smarter mobility where people, cars, homes, and communities are linked through cloud-based services.
The new service currently being developed will be displayed at the Toyota booth at Smart Community Japan 2014, being held at the Tokyo Big Sight from June 18 to 20.