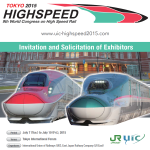 9th World Congress on High Speed Rail
Dates: July 7 (Tue) – 10 (Fri), 2015
Venue: Tokyo International Forum
Organizers: International Union of Railways (UIC), East Japan Railway Company (JR East)
Official Website: www.uic-highspeed2015.com
Email: uic2015@smj.co.jp
Tel: +81-3-3512-5674
Fax: +81-3-3512-5680
The Congress is being coordinated by East Japan Railway Company in collaboration with all parties involved in high speed rail in Japan, and more generally with all UIC member railways.
This is the world's most important meeting for high-speed rail, and is expected to attract more than 1,000 attendees from across the globe to exchange views on the development and achievements of high-speed rail worldwide.
The World Congress will feature international rail experts on transportation policy and technology. It will bring the public and private sectors together to provide insight and identify best practices for implementing high-speed rail projects at every stage – from planning, financing, and construction, to operations and management. Also, the Congress will feature an exhibit showcasing high-speed rail products and services.
We are pleased to start the call for participants. UIC and JR East are looking forward to your entry to this precious opportunity to connect with all the people involved in HSR worldwide.
Registration: http://www.uic-highspeed2015.com/registration/sign_up/

Program
July 7 (Tue) : Opening Ceremony, Press Conference, Parallel Sessions, Welcome Reception
July 8 (Wed) : Parallel Sessions, Round Table, Gala Dinner
July 9 (Thu) : Parallel Sessions, Round Table, Closing Ceremony
July 10 (Fri) : Technical Visit to the Shinkansen related facilities
Exhibition
This exhibition will be held at the same location as the Congress sessions, Tokyo International Forum. To meet a maximum of visitors, the exhibition will take place in the catering area where lunches will be held.
The trade exhibition at UIC HIGHSPEED 2015 will be the largest trade exhibition in the world dedicated to high-speed rail equipment, infrastructure products and services. It offers an excellent opportunity to promote your products and services as well as meet new business prospects. As an exhibitor you will reach high-profile decision makers from policy and transport sectors around the world.
July 7 (Tue) : 12:00pm – 6:00pm
July 8 (Wed) : 9:00am – 6:00pm
July 9 (Thu) : 9:00am – 2:30pm
What to exhibit
Overall railway system and technology, Management:
High speed rail operation and planning, Urban and transport planning, Environmental load reduction, Energy conservation
Safety:
Operation management systems, Control command and Signalling technology, Natural disaster countermeasures
Rolling stock:
Engineering, Design, Manufacturing technology, Maintenance, Braking devices, Current collector
Customer service:
Station design, Station facilities, Accessibility, Passenger information systems, Ticketing systems, ICT
Infrastructure:
Construction technology, Civil structures, Railway tracks, Electrical installations, Maintenance