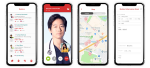 One-Minute Health Care App for Foreign Nationals / Extra Income for Doctors During Downtime
Date: Aug 21, 2018
Source: Thirty Four Co., Ltd.
On Tuesday, August 21st, UrDoc (https://wwww-ur.doc.com), Meguro, Tokyo-based venture with the goal of breaking down borders in health care, will begin providing online health care consultation services with the release of the beta version of Japan's first multilingual health care consultation app.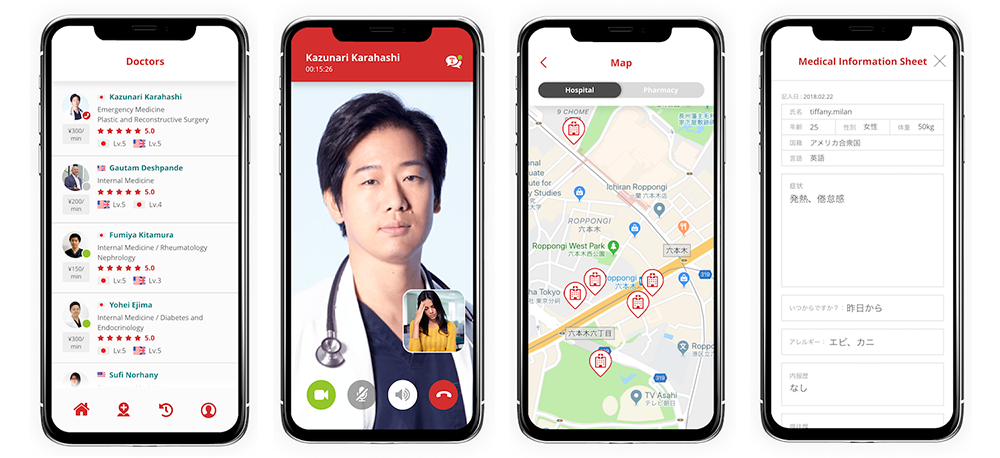 UrDoc will initially seek to expand its services, which are intended primarily for foreign nationals residing in Japan as well as foreign tourists who are visiting the country. The company will then strive to expand its services overseas at an early stage of its development.
Project Background
At present, approximately 3 million foreign nationals live in Japan, and nearly 30 million residents of foreign countries visit Japan annually. However, when these people feel unwell, they face difficulties in accessing health care, due to factors including the language barrier and a lack of the necessary information. UrDoc founder Dr. Kazunari Karahashi has long been involved in providing medical care to foreign nationals in his capacity as a practicing physician. During that time, he has become keenly aware of how these issues manifest themselves at health care facilities.
UrDoc was conceived as a platform for overcoming challenges such as these. Driven by the principle of realizing a new, borderless health care that transcends language, ethnicity, and nationality, it will connect health care providers around the world with people who need health care. As the first step toward this goal, UrDoc is now presenting this multilingual health care consultation service.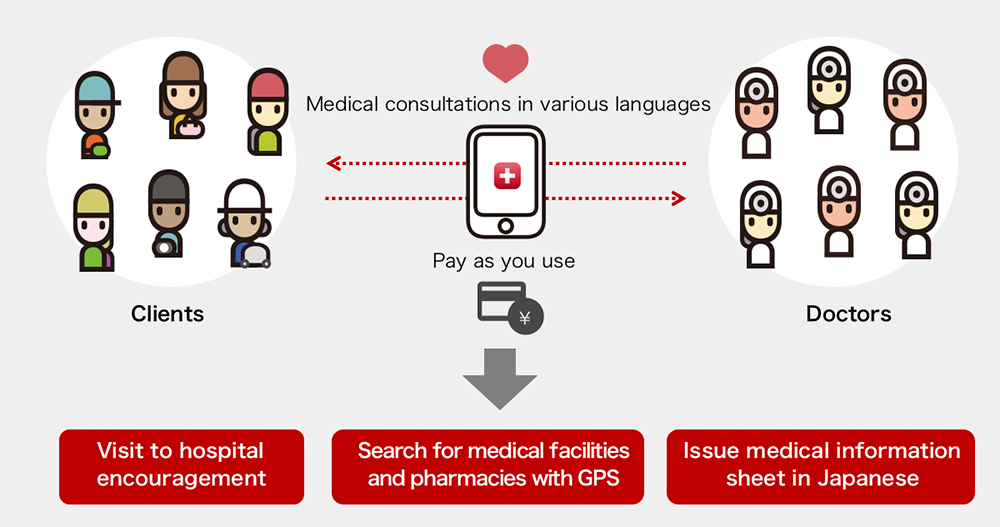 Service Features
Real-time consultation, with no appointment required:
The user simply launches the app, and selects the doctor with whom they would like to consult from among those who are currently online. That doctor responds in real time via smartphone. The user can also choose the consultation format: video, text, or voice.
Launching with 30 doctors speaking 6 languages:
As a group, the 30 doctors who have already joined UrDoc are conversant in numerous languages, including English, Chinese, Korean, Malay, and German. UrDoc expects the number of participating physicians to increase to 100 by 2019, and to 300 by 2020.
Map feature and support for examinations with questionnaires:
As a free feature, the app can automatically display a map showing the nearest medical institution that is able to serve foreign nationals (*2), and the nearest pharmacy. At the desk at a medical facility or pharmacy, the user can present a helpful Japanese-language sheet showing the results of the medical questionnaire administered by the UrDoc doctor.
Pay by the minute, by card:
The cost of the consultation is determined by the amount of time that the consultation takes, on the basis of a per-minute rate that each doctor sets (*3). Payment by major credit cards and debit cards is supported. The card number can also be entered by using the camera.
Ensuring Medical, Legal, and Information Safety and Reliability
As a health care consultation service, UrDoc treats the safety and peace of mind of its users as matters of the utmost importance. On the medical side, the doctors who provide consultations are exclusively practicing physicians who have passed UrDoc's review process. On the legal side, UrDoc has set up an advisory system that is administered by its team of four lawyers, and established a code of conduct for participating physicians in accordance with Japanese laws and regulations, including the Medical Practitioners' Act, the Medical Care Act, and the Ministry of Health, Labour, and Welfare's Guidelines for the Appropriate Implementation of Online Medical Care. With regard to the management of medical information, UrDoc is in compliance with the Health Insurance Portability and Accountability Act (HIPAA), as well as the Four Guidelines established by Japan's Ministry of Health, Labour, and Welfare, Ministry of Economy, Trade, and Industry, and Ministry of Internal Affairs and Communications.
About Corporate Use
This service can also be used by lodging facilities, travel agencies, and other corporations that wish to partner with UrDoc. For details, please feel free to inquire at info@ur-doc.com.
UrDoc Blog: Examining the Future of Health Care
In order to foster a greater understanding of its services, UrDoc has launched a blog (https://blog.ur-doc.com/). Health care is undergoing major changes, spurred on by the internet and the power of technology. In the midst of these changes, UrDoc Blog is serving as a place for UrDoc to not only distribute the latest information on its services, but also to express and share widely a variety of perspectives on the ideas being generated at UrDoc, and on how UrDoc is working to continue making advancements.
App Overview
Official names:
UrDoc (for end-users) / UrDoc for Dr. (for physicians)
Operating systems:
Mobile: iOS, Android
Computer: (for physicians only) macOS 10.13 High Sierra; Windows 8.0, 8.1, 10 (32-bit and 64-bit)
Available from:
App Store, Google Play, UrDoc Official Website (PC version for physicians only)
Price:
App free to download. Users pay consultation fees at the time of consultation.
Supported languages:
UI available in Japanese and English. Consultations available from participating physicians in multiple languages, including English, Chinese, Korean, Malay, and German.
Reception hours:
As of introduction of beta version: 6:00 p.m. – 10:00 p.m. (*4)
*1 In a health consultation with UrDoc, as a general rule, the user will be encouraged to receive an examination at a medical facility on the basis of the health- or treatment-related consultation that they have received. This differs from a medical examination as received at a medical institution.
*2 Based on the Japan Medical Services Accreditation for International Patients (JMIP) and Japan Tourism Agency lists.
*3 Per-minute rate determined separately by each doctor (¥300/minute standard).
*4 Service also available at other times, depending on doctor availability. Service may be more difficult to obtain on holidays, depending on doctor availability. UrDoc is currently in the process of expanding its network in order to establish a 24-hour system.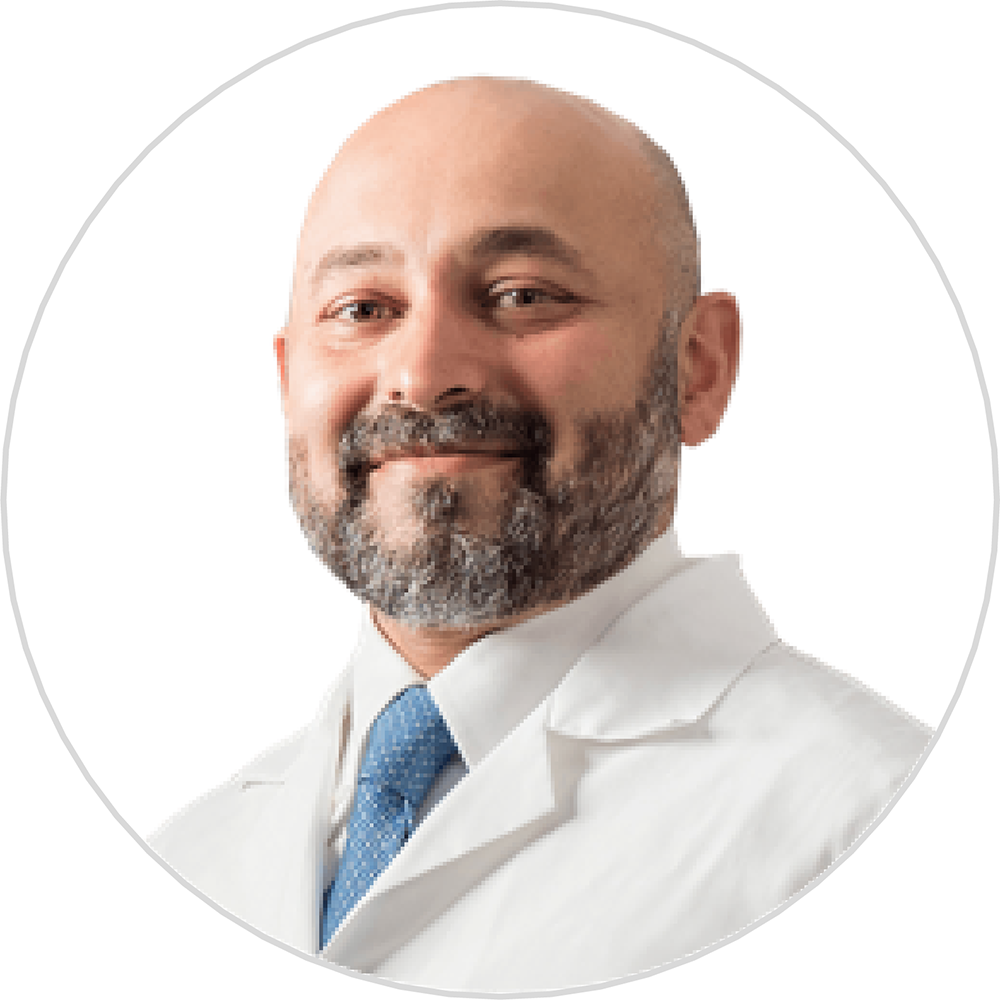 Endorsements
Gautam A. Deshpande, M.D.
Medical Division, U.S. Embassy in Japan
Professor, St. Luke's International University/Juntendo University
As a physician, and as an American living in Japan, I have a strong interest in the improvement of the quality of health care for foreign nationals in Japan.
With the Rugby World Cup and the Tokyo Olympics and Paralympics set to be held here in the near future, there is a need for a service that will allow people who are visiting Japan from abroad to receive medical care and have health consultations without difficulty. It is no exaggeration to say that this project accomplishes that.
I believe that this project will prove helpful in the provision of health care to foreign nationals in Japan. I plan to continue to devote much of my time to working with UrDoc.
Have a safe trip with UrDoc!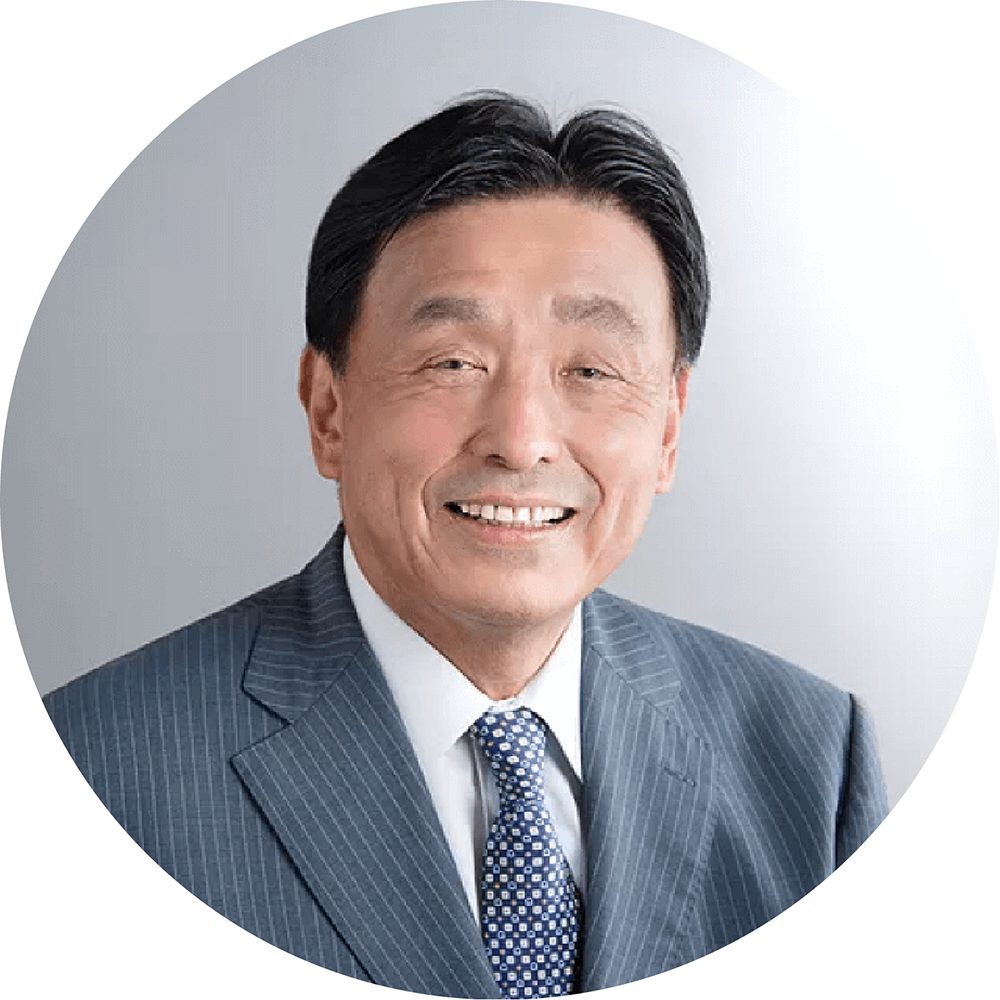 Seigo Takano, M.D.
Director, Sagamihara Kyodo Hospital, Kanagawa Prefectural Welfare Federation of Agricultural Cooperatives
From my standpoint as a doctor, and as a hospital director who manages a medical facility, I endorse this project. To this point in my career, I have promoted numerous reforms for the purpose of providing better health care. I believe that this project has the critical mission of transforming health care for the better.
When I think about how new health care services unlike anything that has existed before will be promoted through this project, I cannot help but look forward to that future. The creation of change can demand tremendous effort, but this project is needed. It is my sincere hope that its mission will be widely embraced by the public as an important one, and that it will benefit many people.