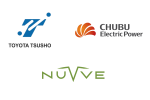 Nuvve Corporation is selected as a V2G system provider in Japan's first ever V2G Aggregator Project by Toyota Tsusho Corporation and Chubu Electric Power Co., Inc.
Date: July 24, 2018
Source: Nuvve Corporation
SAN DIEGO, July 24, 2018 – Nuvve Corp. has been selected as a Vehicle to Grid (V2G) system provider of V2G demonstration project by Toyota Tsusho Corporation and Chubu Electric Power Co. Both companies had already been selected for awards to initiate a "V2G Aggregator Demonstration Project" as a part of the Ministry of Economy, Trade and Industry Agency for Natural Resources and Energy's "FY2018 Subsidies for Virtual Power Plant Demonstration Project for Improvement of Energy Management in Demand Side." Nuvve's purpose of the project is to demonstrate Nuvve's V2G aggregator technology in the Japanese market, guide Japanese market regulations, and provide Japan's electrical system with solutions for managing their grid. This demonstration project began on May 29th 2018.
Nuvve's CEO Gregory Poilasne said, "since the 2011 earthquake and tsunami in Japan, the Japanese energy providers and automotive industry have tried to find solutions for mitigating energy risks for the Japanese people, including solutions such as Vehicle to Home (V2H). It just makes sense that we use electric vehicles (EV) as part of the energy solution. Aggregating a large number of vehicles can provide a significant amount of power that can be used not only during emergency situations, but also for day to day grid balancing. These batteries will generate revenues for the vehicle owners, thus reducing the cost of ownership of an EV. We are excited to be part of this project and look forward to working with our partners in this project."
V2G technology, especially the more advanced forms of V2G, such as the ancillary service that provides frequency regulation to the electric grid from distributed electric vehicles, was conceptualized at the University of Delaware by Professor Willett Kempton (also Nuvve's CTO) and has since been developed and deployed commercially by Nuvve Corporation. Nuvve Corporation will bring its existing V2G deployment experience to the Japanese market, enabling a faster implementation.
This innovative technology will enable the Japanese economy to support a wide deployment of electric vehicles across the country, as each vehicle becomes part of a virtual powerplant that will be adapted to support the grid on a second by second basis. This flexibility allows the grid to adapt not only to the large foreseen EV growth, but also helps new renewable variable sources of energy such as wind and solar to be included in the country's energy mix, thus contributing to reducing CO2 content of electricity for Japanese consumers.
About Nuvve: Nuvve Corp. is a San Diego based company, whose mission is to lower the cost of electrical vehicle (EV) ownership while supporting the integration of renewable energy sources, such as wind and solar. Their Grid Integrated Vehicle platform GIVe™ transforms EVs into grid assets when plugged while guaranteeing the expected level of charge when the vehicle owner needs it. The aggregation of thousands of electric vehicles into a virtual power plant using the GIVe platform, allows Nuvve to participate in electricity markets with a power capacity comparable to traditional generators. Based on vehicle-to-grid technology or V2G, the GIVe platform gives benefits to public organisations, businesses and homes by reducing the cost of electric infrastructure and reducing CO2 emissions. Visit: www.nuvve.com
Purpose of Demonstration Project
Source: Toyota Tsusho Corporation
As the use of renewable energy expands, increased fluctuations in output and generation of excess electricity can be expected in the future. This project aims to build a system which utilizes PHVs/EVs in order to adjust fluctuations and shift the supply of renewable energy capacity by collectively charging/discharging electricity from storage batteries of PHVs/EVs.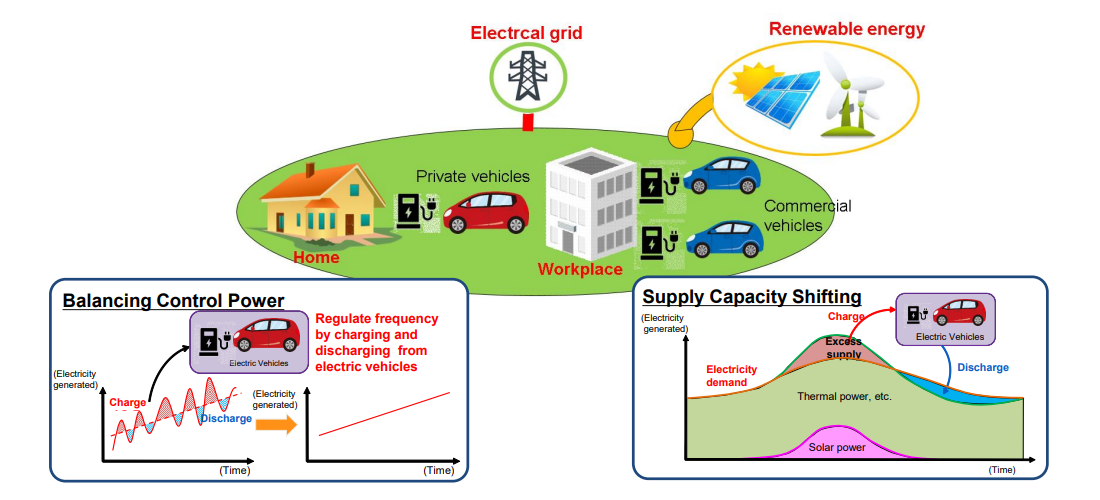 Accelerate the introduction of PHVs/EVs, which only have low negative environmental impacts, by providing new values of PHVs/EVs with bi-directional chargers.
Reduce the cost of demand and supply adjustment of electricity by acquiring new types of Distributed Energy Resources, which results in further diversification.
Contribute to the realization of a low-carbon society and stable supply of electricity
Scope and System Composition of Demonstration Project
(1) Development of V2G Control System (Toyota Tsusho)
Install bi-directional chargers which can dispatch electricity back to the electrical grids at parking facilities in Toyota City.
Build V2G control system (PHVs/EVs aggregation system) by linking Nuvve's V2G server with bi-directional chargers
(2) Evaluation of Impact on Electrical Grids (Toyota Tsusho, Chubu Electric Power)
Evaluate responsiveness in adjusting to fluctuations based on commands from the V2G control system.
Evaluate impact on electrical grids due to backfeeding from bidirectional chargers.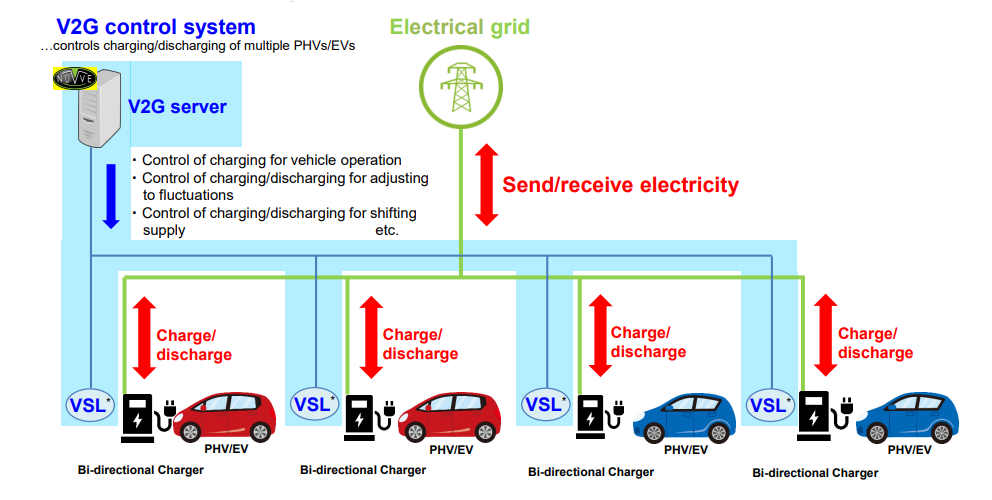 * VSL: Vehicle Smart Link, a module developed by Nuvve for communication with its V2G server.