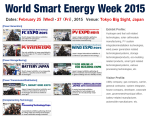 World Smart Energy Week 2015
Dates: Feb 25 (Wed) – 27 (Fri), 2015
Hours: 10:00-18:00 (Last day until 17:00)
Venue: Tokyo Big Sight, Japan
Organiser: Reed Exhibitions Japan Ltd.
Official Site: www.reedexpo.co.jp/en/
TEL: +81-3-3349-8501
FAX: +81-3-3349-8599
E-mail: fcexpo@reedexpo.co.jp
World's leading exhibition covering the power generation, energy saving and energy storage.
All kinds of technologies/products related to smart grid, rechargeable battery, hydrogen and fuel cell, solar cell/module, wind energy, and processing technology are gathering. Each field is divided into specialised shows, and active business meetings will be conducted among exhibitors and visitors from around the world. Also Technical conferences take place by industry's top leaders every day.

FC EXPO 2015
11th Int'l Hydrogen & Fuel Cell Expo.
World's Largest Exhibition Specialised in Hydrogen & Fuel Cell. Join the world's largest industry event where all kinds of technologies, knowledge, talks, decisions, and professionals of the hydrogen & fuel cell gather from around the world.

PV EXPO 2015
World's Leading Exhibition & Conference.
Japan's largest B-to-B international exhibition specialised in PV industry. The latest technologies, materials, manufacturing technologies, and solar cell/module will be exhibited from across the globe.

PV SYSTEM EXPO
Japan's Largest Exhibition specialised in the Latest Technologies for PV System Integration/Installation.
The cutting-edge technologies, devices, and equipment for PV system installation/integration as well as its design, construction, and maintenance technologies will be exhibited from all over the world.

WIND EXPO 2015
Japan's Largest International Exhibition & Conference Specialised for Wind Energy.
Cutting-edge products/technologies, services, market trends, idea, and professionals of wind energy will all gather here.

BATTERY JAPAN
World's Largest Exhibition & Conference for Manufacturing and R&D of Rechargeable Battery.
All kinds of materials, manufacturing technologies, inspection/analysis equipment services as well as the battery itself will gather from around the world.

ECO HOUSE & ECO BUILDING EXPO
Japan's Leading Exhibition specialised in Green Building and Eco-friendly Houses.
A wide variety of building materials, energy saving technologies, and Energy Management System (EMS) will be exhibited.

INT'L SMART GRID EXPO
World's Leading International Exhibition and Conference Specialised in Technologies and Services related to Smart Grid.
Electricity control devices and IT service suppliers for Smart Grid will all gather from around the world.

ENERGY LIBERALISATION JAPAN
For the full liberalisation of the Japanese electricity retail market starting in 2016, JPY 7 trillion worth of business is estimated to be generated. The show will be launched to be the central business hub in response to many requests by industry players seeking to enter this new lucrative business field. A vast range of services and technologies related to electricity retail business will be showcased.

Processing Technology Expo
The Processing Technology Exhibition for Designers & Developers.
Unrivalled platform which gathers all kinds of cutting-edge processing technologies for renewable/smart energy industries. Bring your design sketches and technical issues to find solutions.