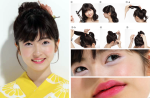 2018 Trends for Cute & Cool Yukata Hairstyling and Makeup
Date: Jul. 4, 2018
Source: Shiseido Co., Ltd.
Summer is approaching, bringing along a lot of fun events such as summer festivals and firework shows. A fashion item that lifts you up and helps you fully enjoy the summer season in Japan is definitely yukata. It has been increasingly popular especially among the younger generation as it is perfect for summer events and makes you look different in an instant. Many people agree that yukata is a must-have for Japanese summer. Here, to help you take up yukata fashion this summer, we share ideas on hairstyles and makeup that go great with it, as well as tips on how to wear yukata stylishly.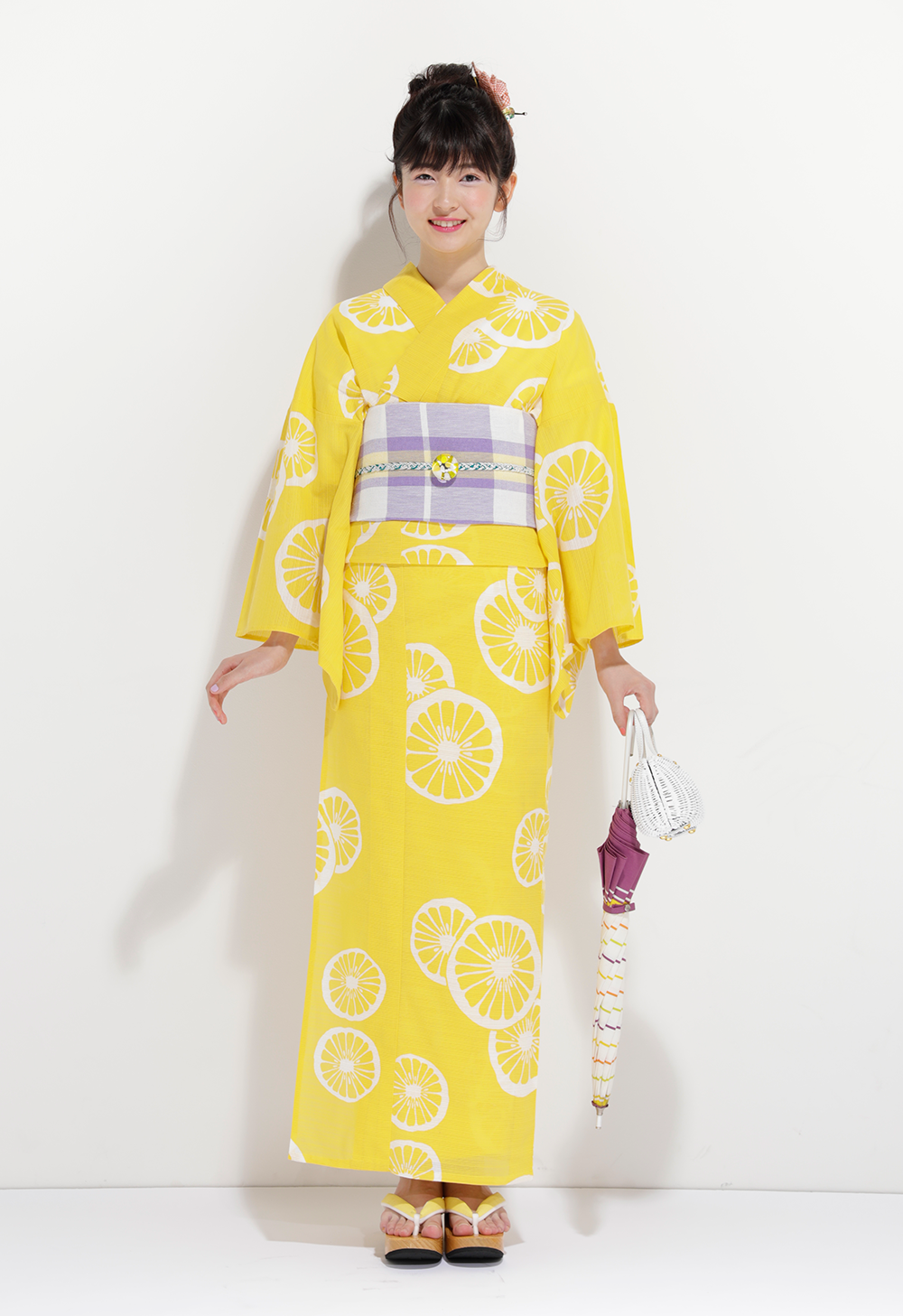 Three tips for yukata hair & makeup styles in 2018
Use a trendy color as an accent
With yukata in the ground color of lemon yellow, use trendy lavender for color makeup to make your face look fresh.
Simple design for a cool impression
Apply color makeup with simple techniques and go for a neat hairstyle of a bun at the nape of the neck.
Profile-conscious hairstyle & makeup
Apply blush all the way to the temples to create a cute side profile. Check the balance of your hairstyle from the sides, too!
How to create a trendy 2018 yukata hairstyle & makeup
Shiseido top hair & makeup artist, Yumiko Kamada introduces hairstyles and makeup looks that reflect this year's trends and are easy for anyone to try out.
Yumiko Kamada has been actively engaged in various beauty activities such as offering hair and makeup support for advertisements, TV commercials, fashion collections and women's magazines, hosting beauty seminars, involving cosmetics development and establishing beauty regimens, etc. Her extraordinary skills and techniques, representative of luxury and delicacy, have been well accepted by many actresses and fashion models in Japan and overseas. She is particularly active with kimono fashion and supports photo shootings for kimono magazines as well as other fashion events such as "Fashion Cantata from Kyoto," where she serves as a chief artist, and "TOKYO KIMONO COLLECTION in Nihonbashi."
Author of "SHISEIDO KIMONO BEAUTY" and "CHANGE" (both published by Seibundo Shinkosha).
Holder of the first level of national certificate for kimono dressing. Acts as a lecturer for Japanese Bridal Makeup Association and Japan Formal Style Association.
Acquired patents for "Texture-based makeup regimen and texture image map" and "Final zone of side profile."
Hairstyling
Prepare the hair for styling. Apply styling foam to enhance elasticity and softly curl the hair ends with a curling iron if you're after a soft, feminine look.
Separate the hair from behind the ears to the top of the head, dividing the hair into the front and back parts (Picture 2).
Tie both parts near the top of the head (Picture 3-a). Split the front part right under the hairband and pull the hair ends through the hole, making an inverse ponytail to add nuances on the sides (Picture 3-b).
Make a bun by twisting the front and back bundles.
Secure the bun with bobby pins, balancing it at the top of the head. Arrange the hair on the sides and finish off with hairspray.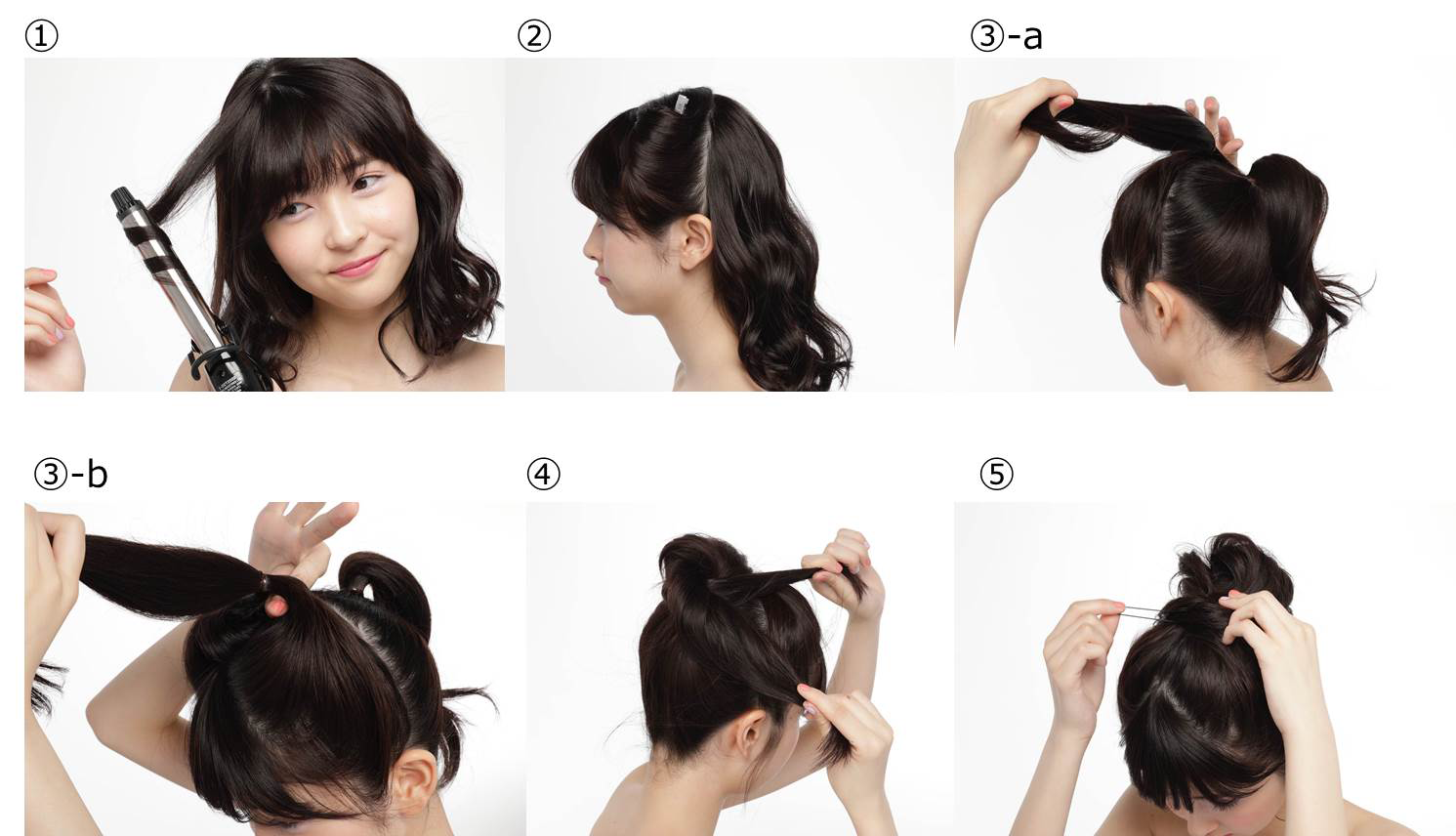 Makeup
Apply liquid foundation for a light finish.
Lightly set with face powder and use highlighter to create a bright and healthy look.
Create soft natural eyebrows with eyebrow powder.
Put coral cream eye color around the outer corner of double eyelids and lavender cream eye color on the lower eyelids for a cool image. *If you have single eyelids, lightly apply the eye color on the outer corner of the eyelids with the eyes opened.
Carefully apply mascara from the roots of the eyelashes for bigger, brighter eyes.
Put pink cream blush onto the cheekbones, and softly blur the color to the sides up to the temples to create some depth.
Wear a glossy pink lipstick for a brighter look. Blur the lip outlines to create a light finish.
Yukata trends in 2018 and tips for yukata dressing
Classical patterns in indigo blue and white are always popular. They are once again well accepted this year, but at the same time, clear colors of lemon yellow, apple green, and citrus orange are coming in vogue. Color coordination of such vibrant fruit colors creates a fresh look. They can be ground colors, or used as an accent color against the ground color of classic indigo blue or white. You can also try these trendy colors with accessories such as obi sash or obidome sash clip to give a fresh new look to your regular favorite yukata.
Yukata, a fashion of midsummer, is supposed to give a refreshing impression. To make it look cool, try using only a few colors or adding white as an accent color. Make sure to tighten the top of yukata around your neck and chest no matter how hot for a neat and elegant look.
Yoko Akizuki
Kimono stylist. Working freelance since 2003, she offers support in kimono styling for magazines and books, and also writes articles by herself. She takes part in kimono dressing for TV dramas, TV ads and movies and owns a kimono accessory brand Ren and sash clip design, Ququ. She also acts as a Japanese calligrapher, promoting kimono and sash design. Author of "Yukata Coordination for Adults" (published by Shogakukan) and "Yukata Style book for Adults" (published by Kodansha), among others.
Following the recent fashion trends, we chose a cool refreshing combination of lemon yellow yukata with lemon motifs along with a lavender check sash and a glass sash clip. This styling is perfect not only for summer festivals and firework shows, but also for more casual occasions such as shopping or dining out. Do give it a try!
※The content of the release is correct as of the time of release, but please note that it may in some cases differ from the latest information.
You can find variety beauty products from list below.
Please check Yukata or Kimono from list below.