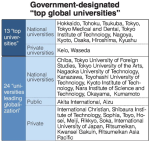 37 "global universities" selected
Date: Sep 27, 2014
Source: The Japan News
Jiji Press – The education ministry has said it will help finance the globalization and personnel training programs of 37 universities in the country, including the University of Tokyo, to strengthen their international competitiveness.
The selection of the 37 schools as top global universities comes after the Education Rebuilding Implementation Council set last year the goal of having at least 10 Japanese universities on the list of the world's top 100. Applications were submitted by 104 universities.
The ministry has designated 13 schools as top universities that will focus on acquiring proficient teachers from overseas and promote cooperation with prestigious universities worldwide. It has also chosen another 24 universities to lead globalization efforts.
Over the next 10 years, the top universities will each receive about ¥420 million in annual subsidies and the universities leading globalization about ¥170 million.
The 13 top universities include the University of Tokyo, Kyoto University, Keio University and Waseda University. The 24 universities leading globalization include Chiba University, Tokyo University of Foreign Studies, International Christian University and Sophia University.
The University of Tokyo and Kyoto University were the only Japanese schools to appear in the rankings of the world's top 100 universities released last autumn by a British education magazine. Similar lists have included no more than five from Japan.
---
13 Top Universities
24 Universities Leading Globalization