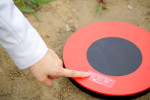 NEDO Develops a Surveying System Allowing for Cooperation between GPS Markers and Drones with Commercialization Coming Soon
Date: June 30. 2017
Source: NEDO
Utilizing the results of a NEDO project, Aerosense Inc. has developed a GPS built-in ground control point "AEROBO® Marker" with the aim of reducing survey man-hours and post processing time at construction sites. By installing these markers at construction sites, survey markers can be easily placed, eliminating time and effort otherwise consumed by additional survey man-hours.
In addition, Aerosense Inc. has developed "AEROBO® Survey 2.0," a package system that integrates the "AEROBO® Marker" and drones for surveying with cloud data processing service. Reservations for rentals and sales will begin this July. NEDO hopes that introduction of this new system at construction sites will improve the productivity of the entire construction production system, contributing to the dissemination of the "i-Construction" concept being promoted by the Ministry of Land, Infrastructure, Transport and Tourism.