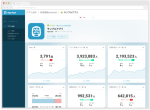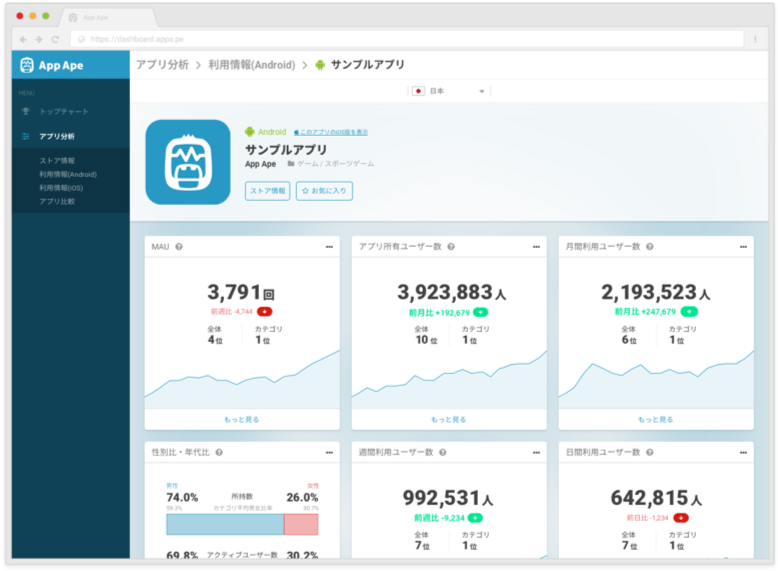 Japan's Largest Mobile App Analytics "App Ape" is Heading to the U.S.
Date: Oct 20, 2017
Source: Fuller, Inc.
– App Ape Has Just Been Pre-launched, Targeting a Service Launch Upcoming Next Month –
CHIBA, Japan, Oct. 20, 2017 – Fuller, Inc., the largest mobile app market analytics provider in Japan, today announced the pre-launch of its analytics platform "App Ape" in the United States. For the service launch upcoming next month for U.S. data, App Ape opens a pre-registration (https://appa.pe/en/) for the earliest access with a special discount offer.
App Ape is a mobile app analytics platform where app publishers can access their competitors' data and key metrics. App Ape has focused on specializing in Japan and South Korea markets, and provides high value in usage data such as user demographics and the number of active users in a certain period of time besides store and sales stats. The analytics has supported more than 3,000 companies including the world's leading tech companies such as King, Supercell, Spotify, and LINE in addition to most of the Japanese mobile apps or IT related large companies including Docomo, KDDI, Rakuten, Recruit, and more.
App Ape will be available in the U.S. between the middle and end of next month and allow app publishers and marketers to access the U.S. market data. Today, the pre-registration is open, and the earliest access and the special discount will be provided in advance to the service launch.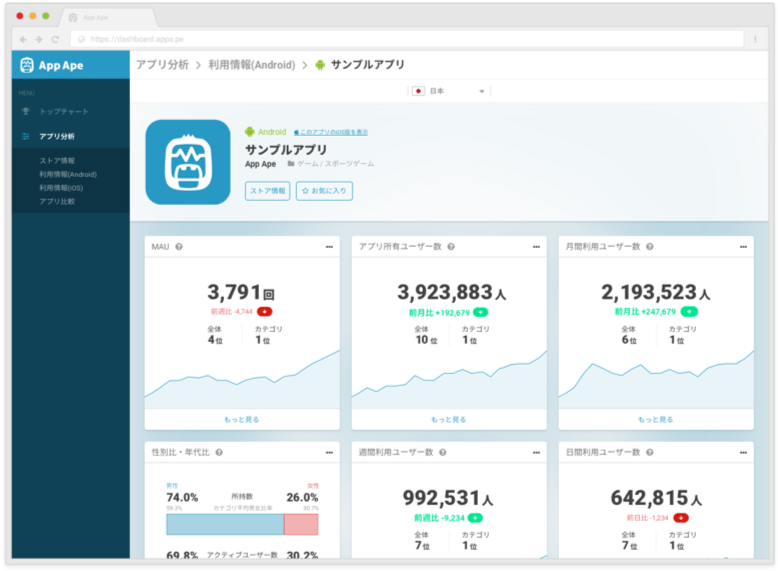 Japanese Vertion "App Ape" Screen
App Ape's special features:
Access to Usage Data such as User Demographics and the number of Active User (ex. MAU, DAU, HAU)
Quick Access to analytics by Self Serve
Reasonable Pricing
User Friendly Interfaced Dashboard
App Ape URL: https://appa.pe/en/