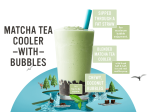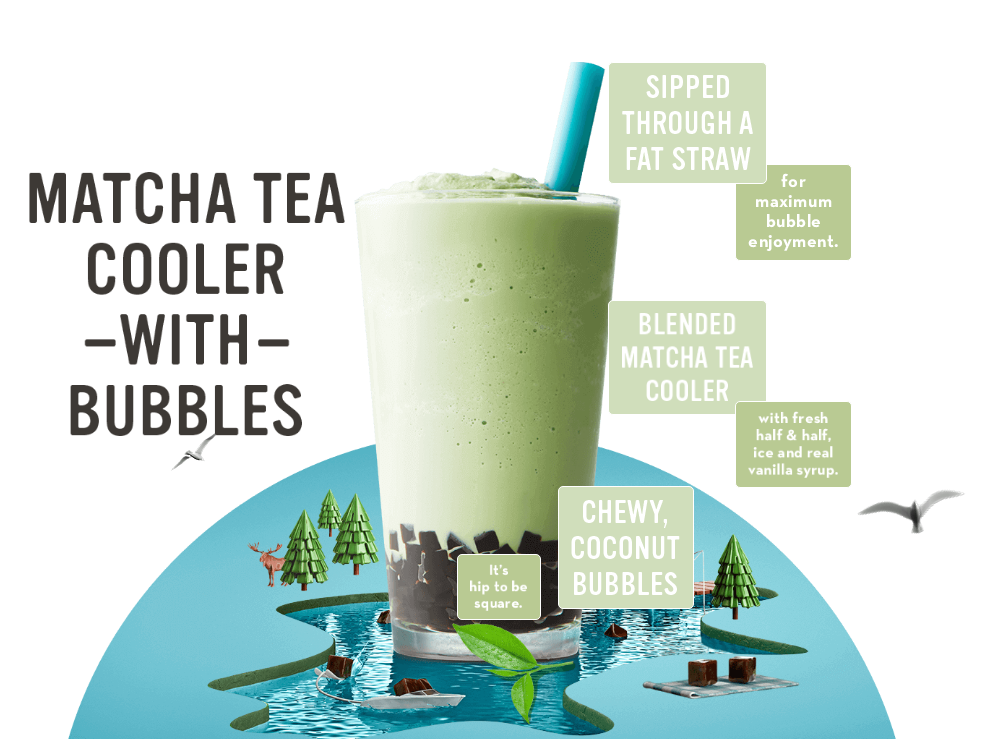 A Matcha Made in Heaven! – Bubbles and Matcha!
A Pair of New Offerings is Bubbling Up at Caribou Coffee Stores May 3
Date: May 03, 2018
Source: Caribou Coffee
MINNEAPOLIS, May 3, 2018 – Caribou Coffee
is proud to now offer a new line of drinks featuring two exciting ingredients: Bubbles and Matcha! Both launch in Caribou stores nationwide starting Thursday, May 3.
Bubbles
Caribou Coffee is the only national coffeehouse where you can get bubbles in your iced coffee drinks. Bubbles are chewy, coconut jellies flavored with caramel and are the perfect beverage mix-in. Caribou's Bubbles aren't filled with anything (tapioca, fruit juice, etc.), so they don't pop when you chew them like many options in the market.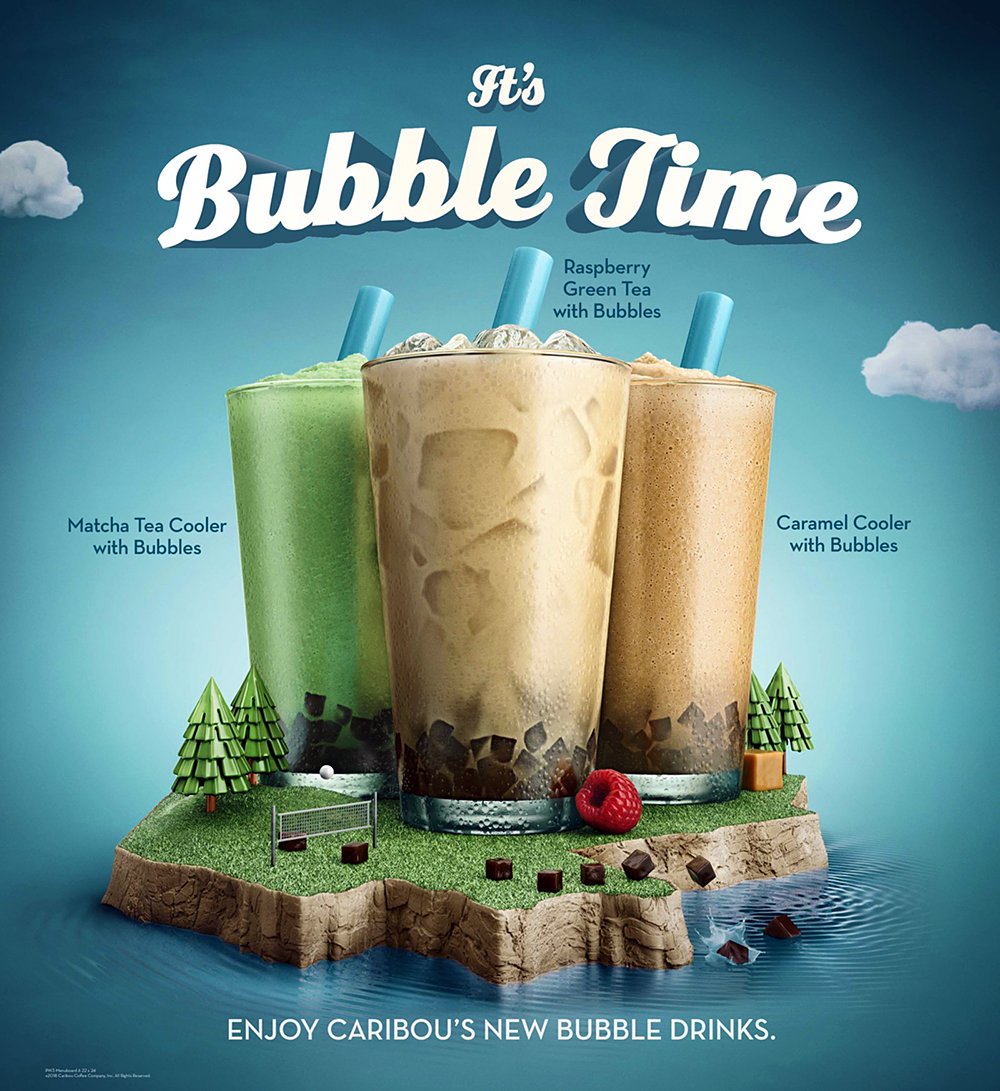 Caribou Coffee's New Bubble Drinks

This spring and summer guests can kick back and Bubble with these delicious, chewy, flavor-packed morsels that can be added to any of Caribou's existing iced beverages or enjoy the new line of Bubble Drinks! As we say… it's no trouble, just bubble!
Caribou Coffee's new Bubble Drinks include: Raspberry Green Tea (iced), Caramel Cooler (blended), Matcha Tea Cooler (blended). The drinks are for a growing coffee crowd looking for a new way to escape to bubblier shores. After all, who doesn't love a delicious, fun surprise at the bottom of their beverage!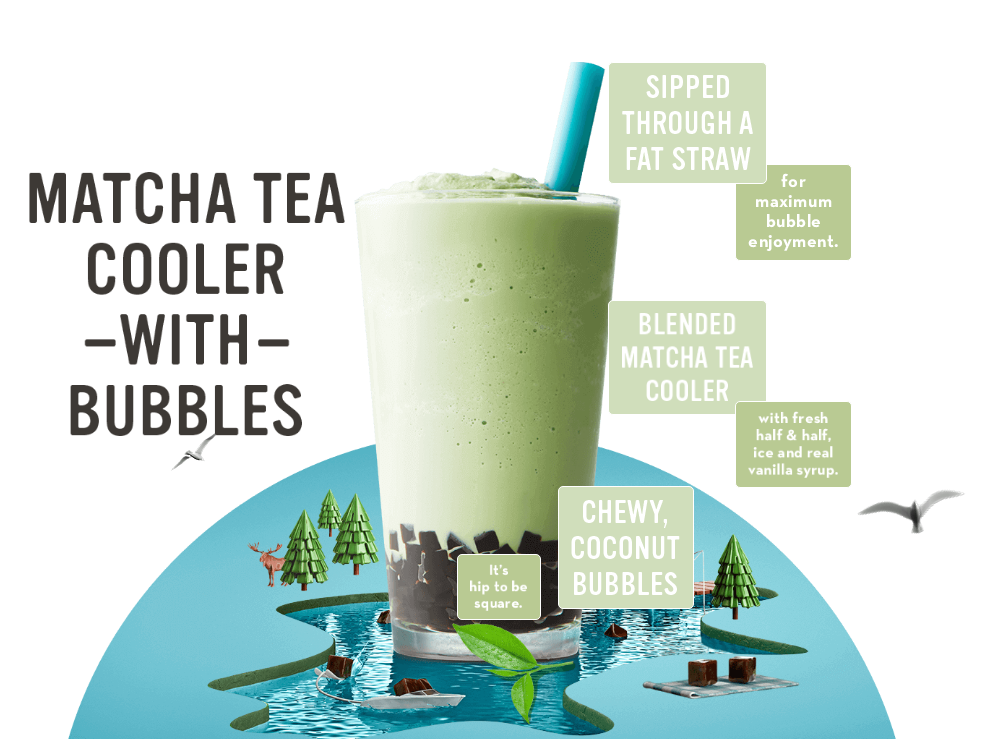 Matcha Tea Cooler with Bubbles

Matcha
Caribou Coffee's got matcha! That's right, green is good at Caribou where guests can enjoy a delicious new line of Matcha beverages starting May 3.
Matcha is a type of powdered green tea that is grown and produced in Japan. The green tea leaves are shaded from the sun for the last few weeks of their growth, increasing the chlorophyll content and creating a gorgeous green color. Then, the leaves are carefully ground with stone grinding wheels to produce a fine powder.
Caribou Coffee's new Matcha lineup includes:
Matcha Tea Cooler with Bubbles!: Matcha powder, vanilla, half & half and Caribou Coffee's shake mix blended together and served on a bed of bubbles or coconut jellies flavored with caramel.
Matcha Vanilla Tea Latte: Matcha powder, vanilla and steamed milk
Not only are these matcha options the perfect summer pick-me-up, but they're also loaded with benefits including like antioxidants and a whole list of reported health benefits. Studies show Matcha boosts your metabolism, calms your mind, lowers cholesterol and includes anti-cancer properties.
Add a delicious dose of excitement to your beverages with Bubbles and Matcha, both available at all Caribou Coffee locations nationwide, about 400 stores, on May 3.
To learn more, visit CaribouCoffee.com or follow the coffeehouse on Facebook, Twitter or Instagram. Sign up for Caribou Coffee's loyalty program, Caribou Perks, at CaribouPerks.com.
About Caribou Coffee
Founded in 1992, Caribou Coffee is the second largest company-operated premium coffeehouse in the United States with more than 263* company-owned stores and 50* Coffee & Bagels stores in partnership with Einstein Bros. Bagels, 142* domestic license locations in 19* states and 268* international franchise stores in 12* countries. Caribou Coffee provides high quality, handcrafted beverages and food options to fuel life's adventures, both big and small. Known for a commitment to sustainability, the Company was the first major U.S. coffeehouse to serve 100% Rainforest Alliance Certified™ coffees and espresso. Caribou Coffee products can also be found in grocery stores, mass retailers, club stores, foodservice providers, hotels, entertainment venues and online. To learn more about Caribou Coffee, visit CaribouCoffee.com.
You can purchase their products on online shop below.