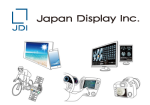 Japan Display Inc. Announces Plans to Build New G6 LCD Fab to Satisfy Growing Demand for Advanced Displays
Date: Mar 6, 2015
Source: Japan Display Inc.
TOKYO, Japan, March 6, 2015 – Japan Display Inc. ("JDI") today announced that it has decided to build a new Generation 6 (G6) LCD manufacturing fab in Japan to satisfy growing demand for ever-advancing displays (the "Project"). Details of the Project are as follows.
Continue reading »