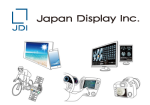 Japan Display Inc. Announces Plans to Build New G6 LCD Fab to Satisfy Growing Demand for Advanced Displays
Date: Mar 6, 2015
Source: Japan Display Inc.
TOKYO, Japan, March 6, 2015 – Japan Display Inc. ("JDI") today announced that it has decided to build a new Generation 6 (G6) LCD manufacturing fab in Japan to satisfy growing demand for ever-advancing displays (the "Project"). Details of the Project are as follows.
1. Reason for the investment
Given expected future growth in demand for displays JDI has decided to build a new G6 LCD fab to expand capacity to meet the higher demand. JDI's LCD capacity will increase more than 20% in total by this Project.
2. Overview of the new fab
| | |
| --- | --- |
| Location | Hakusan-City, Ishikawa Prefecture (tentative) |
| Production line | Generation 6 LCD panel fab / 25,000 sheets per month |
| Total capital expenditures | Approximately 170 billion yen is estimated, including land, building and production equipment. |
| Capital funding | JDI cash flow and other receipts. JDI does not plan equity or debt finance for the Project. |

3. Schedule
| | |
| --- | --- |
| Resolution at Board of Directors meeting | March 6, 2015 |
| Planned commencement of production at the new fab | 2016 |

4. Impact on JDI's financial forecasts
The financial impact of the Project on JDI's FY2014 financial forecast is minor, There is no change to the forecast announced on November 13, 2014.
Further information about the fab location and the seller of the land and other details will be announced immediately after the completion of a purchasing contract.