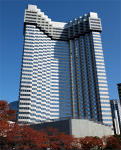 Razing skyscrapers from the inside
High-rises slowly vanish as new techniques ditch demolition crews
Article Source: The Japan Times
Strolling around central Tokyo, many marvel at the skyscrapers going up and wonder what the new buildings will look like and who their tenants will be.
On the other hand, very few really pay attention to the buildings that are coming down.

But pulling down skyscrapers requires state-of-the-art technology, especially if the structures are more than 100 meters high. Over the next few decades, more and more tall buildings in Japan are expected to have a date with the wrecking ball.
"We thought there needs to be an especially effective way for those over 100 meters," said Hideki Ichihara, who oversees construction technology development for Tokyo-based builder Taisei Corp.
The Taisei Ecological Reproduction System, or Tecorep, makes working environments safer, and reduces noise and dust by keeping all the disassembly work inside the building.