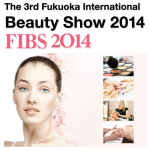 The 3rd Fukuoka International Beauty Show (FIBS) 2014
Date: Jun 9(Mon) – 11(Wed)
Venue: Marine Messe Fukuoka
Organiser: Business Guide-Sha, Inc.
Official Website: www.giftshow.co.jp/english/3fibs/
FIBS, the Best Gateway to the Professional Health & Beauty Industry in Kyushu and West Japan
We are pleased to inform you that, followed by the success of "The 1st Fukuoka International Beauty Show (FIBS)", the 2nd FIBS 2013 was won high marks as the trade fair worth of holding on growing expectations for the beauty market in Kyushu region. Notably, Kyushu is region where there are quite many barber shops and beauty parlors, of which Fukuoka has the largest number among the region. And that implies its potentiality of the beauty market.
Faced with the rising beauty market, Fukuoka City is positively taking in fashion industry and beauty contents into its municipal administration. Furthermore, the City is implementing several support schemes that can be offered to the international exhibitors. With these in mind, we strongly recommend that you take the advantage of the schemes provided by the City to the full to participate in the coming FIBS.

Exhibits:
Cosmetics, Beauty Product/Equipment, Nail Care Product/Equipment, Spa, Weight Management/ Equipment, Health Food/Equipment, Beauty Salon Accessories, Associations and Organizations, Educational Institutions, etc.
Visitors:
Beauty Salons, Esthetics, Nail Salons, Aromatherapy, Massage Shops / Proprietors / engineers
Hotel, Resort, Spa, Hot Springs / Facility, Owners or buyers of Fitness & Sports Club, etc.
---
Message From:
Mayor of Fukuoka City – SOICHIRO TAKASHIMA
Chairman of Fukuoka Chamber of Commerce and Industry – NORIO SUEYOSHI
The Fukuoka International Gift Show is the largest-scale professional trade show in Kyushu that draws over 20,000 buyers, and the Fukuoka International Beauty Show 2014 (FIBS), with the theme of "beauty and health", will be held at the same time again this year.
Fukuoka City has a large population of young women and the entire city is highly sensitive to trends in fashion and beauty. In addition to many apparel companies, fashion colleges and schools, there are plenty of nationally renowned beauty salons and spas in Fukuoka. Therefore it is a very attractive market for beauty industry.
In recent years, Fukuoka has been highly-evaluated internationally for its market of 2,450,000 people living in Fukuoka metropolitan area, its geographic advantage of being the big city of Japan that is closest to Asia, and its activities aiming to be the hub city of Asia. We sincerely hope that we will welcome many local and overseas visitors to both shows, and that these events will foster business connections and international trade.
---
Please check the beauty & personal care products
---