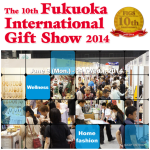 The 10th Fukuoka International Gift Show (FIGS) 2014
Date: Jun 9(Mon) – 11(Wed)
Venue: Marine Messe Fukuoka
Organiser: Business Guide-Sha, Inc.
Official Website: www.giftshow.co.jp/english/10figs/
Kyushu's Largest Gift & Lifestyle Accessories Trade Fair
"Fukuoka International Gift Show (FIGS)" that marks its 10th holding is recognized by the trade buyers in western part of Japan centering on Kyushu as the largest personal gift and lifestyle accessory fair in Kyushu region. FIGS showcases a wide variety of products spanned from lifestyle goods at home and abroad such as interior, dress-and-ornament goods, and apparel to food & beverages, to local special product. Thus, the platform where many buyers and exhibiting companies gather to conduct business talks is expected to develop new sales channels and increase the possibility of business matching with the different industry, not to mention appeal to many quarters.
Moreover, since FIGS is open to the general public only on the last day, June 11, you can make the most of the day not only to get real responses from end users on your products but also sell out the exhibits to the public. Be sure to exhibit and introduce your attractive products to the people in Kyushu, one of the best commercial spheres in Japan.

Exhibits:
The Fukuoka International Gift Show, emphasizing the distinctive characteristics of exhibit merchandise, is divided into the following zonings in the exhibition venue:
Trendy Goods


Fancy Goods & Kids Stuff / Wrapping / Stationery / Paper Goods / Hobbies & Crafts / Character Goods / Toys / Chirstmas / Sports / Pet goods / Entertainment Goods etc. – a merchandise category comprising items that you want to handle, ranging from little things to marvel over to soothing lifestyle accessories and trends

Apparel Fashion Goods & Jewelry


Apparel & Fashion Goods / Jewellery, etc. – a chic and fashionable merchandise category

Sales Promotion Goods & Support


Shop Window Fixtures / Point of Purchase Display / Display Fittings & Materials / Event wear / Sales Promotion Premium Goods / Hardware and Software for Sales Promotion Support / Proposals of new business models like FC development to distribution-business chains, wholesalers and importers.

Home Furnishings & Garden Style


Interior Accessories / Living-space Furniture & Fabrics / Art / Incense / Lamps etc. – a varied merchandise category that adorns the living ambience, Natural & Artificial Flower / Indoor Gardening / Vase / Flower Arrangement / Dry Flower / Preserved Flower, etc.

Gift From The World


A diverse array of overseas giftware products from around the globe is on display, featuring in particular a collection of fine products from Asia. With the exotic mystique of a far-away place, a line-up of high quality goods conveys the unique tastes of their cultures.

Wellness & Beauty


Cosmetics / Cosmetic Accessories / Hair-care Products & Equipment / Skin-care Goods / Oral-care / Home-use Beauty-care Products / Aesthetic Products / Diet Goods /Healthy Food / Supplement Food, etc.- a merchandise category focuses on health and beauty.

Visitors:
Buyers from domestic and overseas retail and wholesales businesses related to the personal gift market(retail, wholesale, specialized shops, department stores, SC, CVS, GMS, leisure-related, drugstores, art galleries, import/export trading companies, mail-order sales, door-to-door sales, printing, local and national government agencies, hotels, wedding halls, food retail/wholesale/restaurant-related, press, publishing, etc.)
---
Message From:
President of Business Guide-Sha, Inc. – NOBUYUKI HAGA
It is with great honor and pleasure to inform you that, in order to live up to people's expectations at home and abroad, the 10th Fukuoka International Gift Show 2014(FIGS) takes place over 3 days from June 9th (Monday) through 11th (Wednesday), 2014 on the largest scale ever in Kyushu region at Marine Messe Fukuoka, Fukuoka City, Japan.
Fukuoka is an attractive city that sends trends, such as goods and fashion, across the nation and towards Asia. On the other hand, the FIGS lends the support to help distributing the products displayed by the exhibitors at the Show in the various market industries. This time as well, FIGS implements new plans which meet the expectations from the companies, considering the promotion and expansion of their businesses in Japan.
---
Please check the gifts & crafts products
---