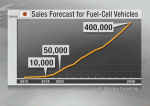 Fuel cell vehicles sales expected to grow
Date: Nov 24, 2014
Source: NHK World
A survey conducted by a Japanese research firm projects that by 2030, one out of every ten new cars sold in Japan will be eco-friendly fuel cell model. Deloitte Tohmatsu Consulting estimates domestic sales of fuel cell vehicles will increase from 10,000 units in 2018 to 50,000 in 2020, and reach 400,000 in 2030.
The research firm predicts that the number of corporate user will rise in the run-up to the 2020 Summer Olympics in Tokyo. It also expects more hydrogen fuelling stations around the country, and lower price tags thanks to the start of mass-producing.
Toyota Motors last week announced it will launch the world's first commercial fuel cell model on December 15th. Honda plans to launch a model in fiscal 2015 and Nissan in 3 years' time.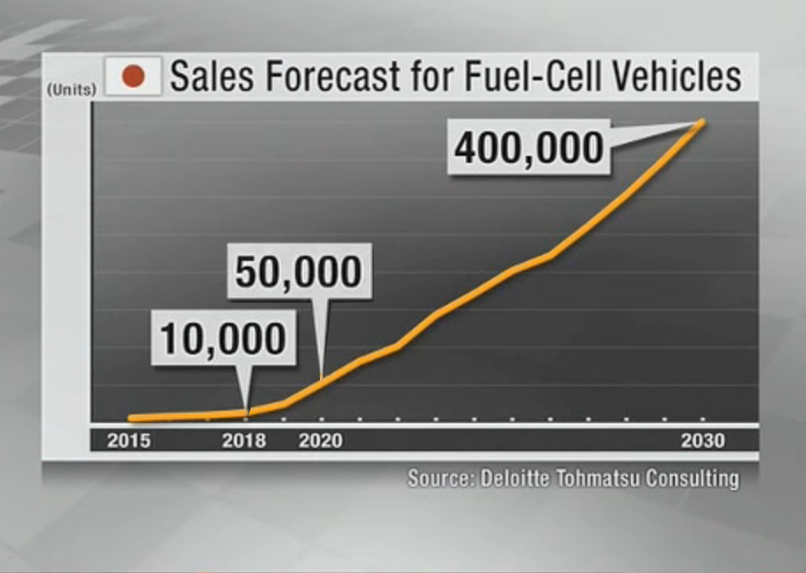 But the manager of Deloitte Tohmatsu Consulting, Koichi Oyama, says fuel cell cars won't be major players in the market until 2020, when automakers are expected to release second-generation models.
He says the government and automakers need to join forces to build hydrogen fuelling facilities.
Fuel cell vehicles run on electricity generated by chemical reactions between hydrogen and oxygen, and emit no exhaust.
---
Japnese Fuel Cell Vehicles