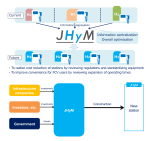 Japan H2 Mobility, LLC established by eleven companies to accelerate deployment of hydrogen stations in Japan
Date: Mar 05, 2018
Source: Japan H2 Mobility, LLC.
10 large Japanese companies and one french company establish the "Japan H2 Mobility" consortium for the purpose of accelerating the deployment in Japan of hydrogen stations and fuel cell electric vehicles.
The 11 founding companies will contribute, in connection with the stated ambition of the Japanese government,1 to the development of a large-scale hydrogen infrastructure in order to build a network of 320 stations by 2025, and 900 by 2030.
1Pursuant to the strategic roadmap presented by the Japanese Ministry of Economy, Trade and Industry (METI) on March 22, 2016.
Continue reading »