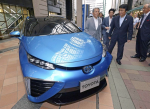 Fuel-cell cars to hit market in '15
Date: Sep 13, 2014
Source: The Japan News by Naoki Ogawa and Hajime Yamagishi
Fuel-cell vehicles (FCVs), which use hydrogen and have zero emissions, will soon be on the market. Toyota Motor Corp. is scheduled to release the "ultimate eco-friendly cars" by the end of this fiscal year, which ends on 31 March.
The government plans to allocate more funds to assist in promoting wider use of FCVs in fiscal 2015, but many hurdles remain. It remains to be seen whether 2015 will signal the start of an era for FCVs, as they have other benefits, including the ability to provide a week's worth of electricity for ordinary households in the event of emergencies.
On 19 August, Fukuoka FCV Club, an association comprising the Fukuoka prefectural government and local companies, held an inaugural ceremony in Fukuoka attended by roughly 400 people. The club aims to promote FCVs in the prefecture ahead of the rest of the nation because, according to Fukuoka Gov. Hiroshi Ogawa, "[FCVs] require a number of industries to work together, so we can expect a lot [from FCVs] in terms of revitalising our local economy."
Generating power using hydrogen and oxygen has been a dream for automakers for some time, and they have been keeping a close eye on technological advances in this area. But to use the technology in cars, the fuel cell system must be compact with a high power output capacity. In addition, it was extremely difficult to develop FCVs capable of enduring temperature changes, vibrations and possible accidents.
Toyota relied on trial and error after it began its FCV development in 1992. The automaker manufactured a model nearly identical to its current form in 2002, when the company started leasing FCVs mainly to public offices. But they were estimated to cost at least 100 million yen (725 euros) each — a price tag unfeasible for the commercial car market.
Toyota strove to cut costs by reducing the use of expensive materials, such as platinum. It also used as many parts as possible that were shared with other models, such as Prius hybrid vehicles. The automaker eventually succeeded in lowering manufacturing costs to one-twentieth of the initial figure, about 7 million yen per unit.

Continue reading »