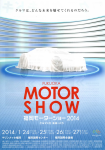 Fukuoka Motor Show 2014
Date: Jan 24th (Fri) – 27th (Mon), 2014
Venue: Fukuoka Convention Center
Organizer: Fukuoka Motor Show Executive Committee
Fukuoka Motor Show 2014 Executive Committee are pleased to present "Fukuoka Motor Show 2014 – Power of Automobiles, Power for the Future-" from 24 January (Friday) to 27(Monday), 2014 at Marinemesse Fukuoka, Fukuoka Kokusai Center and Fukuoka International Congress Center (total 3 venues). We present this show every two years same as Tokyo Motor Show and this will be our fourth time. With a turnout of 145,000 visitors, Fukuoka Motor Show 2011 concluded with great success.
In this show, you can experience concept cars by newest technology both domestic and foreign and touch the next-generation automobiles. From Northern Kyushu as one of the world major centers of production base, producing a million and a half automobiles, we would like to convey the potential that automobiles carry for us the power of creating abundant lifestyles and the future. We will also provide several exhibits, events and gourmet corner to enjoy and this is not only for automobiles and motorcycles fans, but also for family and children. We hope that all the visitors will take the joyful feeling home with them.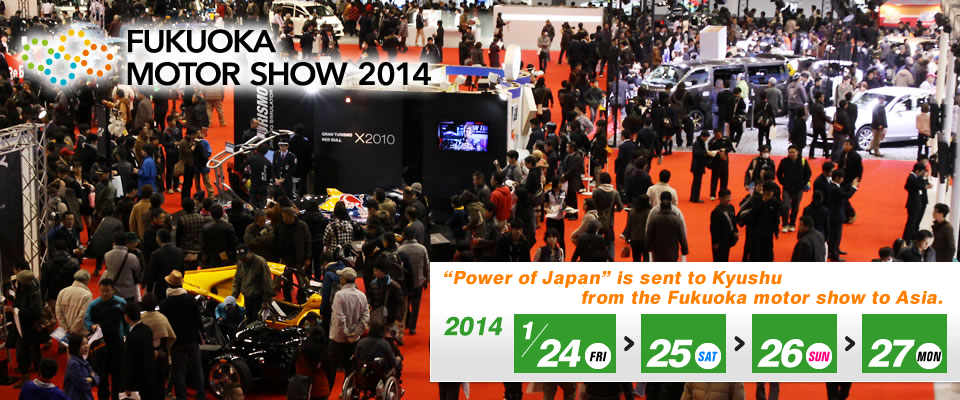 Organizers
Fukuoka Motor Show Executive Committee
Northern Kyushu Automotive Industry Promotion Conference in Asia
Kyushu Bureau of Economy, Trade and Industry
Kyushu Regional Development Bureau, MLIT, Government of Japan
Kyushu Bureau of Telecommunications
Kyushu District Transport Bureau
Kyushu Regional Police Bureau
Fukuoka Prefecture
Fukuoka City
Kitakyushu City
Kyushu Automotive-Motorcycle Industry Promotion Conference
Kyushu Economic Federation
Fukuoka Federation of Chambers of Commerce & Industry
Fukuoka Chamber of Commerce & Industry
Fukuoka Federation of Small Business Association
Kitakyushu Chamber of Commerce and Industry
Fukuoka Prefectural Federation of Societies of Commerce and Industry
Kyushu University
Fukuoka University
Kyushu Institute of Technology
Nishinippon Institute of Technology
Kurume Institute of Technology
The University of Kitakyushu
Kyushu Sangyo University
Fukuoka Automobile Dealers Association
Fukuoka Convention Center
Nissan Motor Kyushu Co., Ltd.
Toyota Motor Kyushu, Inc.
Daihatsu Motor Kyushu Co., Ltd.
Nissan Shatai Kyushu Co., Ltd.
Kyushu Electric Power Co., Inc.
Kyushu Railway Company
Nishi-Nippon Railroad Co., Ltd.
SAIBUGAS Co., Ltd.
Kyudenko Corporation
The Bank of Fukuoka, Ltd.
The Nishi-Nippon City Bank, Ltd.
Kyushu Tourism Promotion Organization
Fukuoka Association of City Mayors
Fukuoka Prefectural Association of Towns and Villages
Fukuoka Small and Medium Enterprise Support Center
Fukuoka Machine and Metal Industry Federation
The Nishinippon Shimbun
Nikkei Inc.
Television Nishinippon Corporation
TVQ Kyushu Broadcasting Co., Ltd.
RKB Mainichi Broadcasting Corp.
KBC Co., Ltd.
Fukuoka Broadcasting System Corporation
LOVE FM International Broadcasting Co., Ltd.
Fukuoka Motor Show 2014 Official Site
www.fukuoka-motorshow.jp/en/