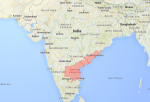 Chandrababu Naidu wants Andhra Pradesh to shine with help from "land of rising sun"
Date: Dec 1, 2014
Source: indiacom – By Press Trust of India
Hyderabad, Dec 1 : Andhra Pradesh will have Japan's imprint on development in various spheres, particularly in building the state's new capital, if plans drawn out by the TDP-led Government fructify. Not only Japan's top companies and organisations but also the its government has agreed to "work with us" and aid in development of the "sunrise state", Chief Minister Chandrababu Naidu said today and expressed satisfaction over his five-day successful trip to Asian economic powerhouse last week.
Naidu is promoting Andhra Pradesh as a "sunrise state" given its location in the east-coast zone. Briefing mediapersons about the outcome of his second foreign visit after taking over as the Chief Minister of the truncated State, Naidu said the main purpose of his trip was to make preparation for long-term development plans for AP. "I am preparing long-term plans for the State and not looking at instant gains. Japan Government has promised support and its participation in our State's development while major Japanese companies and organisations have also agreed to chip in with investments and other assistance," he said.
Japanese Prime Minister Shinzo Abe was "very positive" after knowing the state's development plans, the Chief Minister said, adding, "I have requested Abe to visit Andhra Pradesh when he tours India next year and he has agreed." Japan's Ministry of Economy, Trade and Industry (METI), he said, signed a Memorandum of Understanding (MoU) with the AP Government to promote direct investment by companies from Asia's second largest economy into Andhra Pradesh in urban development, infrastructure, manufacturing, agriculture, food processing and information technology.
METI would also support development of industrial parks in AP, he added. Japan International Cooperation Agency (JICA) has come forward to prepare a project report on the industrial potential in AP and promote investments. "We are in the third place now in Japanese investment but we want to make it No 1. Already three Japanese companies are investing in the Sri City SEZ in Chittoor district and more are expected to come," the Chief Minister said.