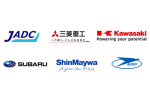 Boeing says Japanese firms to build 21 pct of the 777X
Date: Jun 12, 2014
Source: FOX News (Original Source: Reuters)
Boeing Co said it will retain Japanese companies such as Mitsubishi Heavy Industries Ltd, Kawasaki Heavy Industries Ltd and Fuji Heavy Industries Ltd as key partners in its commercial aircraft business, awarding them a 21 percent workshare of its latest jetliner, the 777X.

Five Japanese companies will build fuselage sections, bulkheads, landing gear and center wing sections, and other parts for the aircraft that is slated to go into service at the end of the decade, Boeing said in a release on Thursday.
The workshare on the 777X is on a par with the 21 percent of the 777 that Japanese firms have been fabricating since 1995, and in line with what sources familiar with the plan told Reuters in April.
The share, however, is lower than the 35 percent of the carbon fiber 787 Dreamliner built in Japan, including the wings, a level of participation that Japanese firms may struggle to win in the future, industry analysts say.
After difficulties managing its extended 787 global supply chain that delayed deliveries, Boeing is taking a more conventional approach to building the 777X, which unlike the all-carbon fiber Dreamliner will have a metal fuselage. The wings will be made by Boeing in the United States.
Mitsubishi Heavy, according to sources who spoke to Reuters last year, made a failed eleventh hour bid to win the wing business when workers in the U.S. at first rejected a labor deal that would have secured the build in Washington State.
Japan's government sees Boeing as crucial to building an aerospace industry that the U.S. dismantled after World War II. Boeing estimates that around 22,000 engineers in Japan, or 40 percent of nation's aerospace workforce, work on its jets.
Beginning with panels for the 747 jumbo, Japanese firms secured their ties to Boeing in the 1980s with a 16 percent share of the 767. That deepened further with their involvement in the 777 a decade later.
As Japan emerged after World War II as Asia's powerhouse economy and the region's biggest aviation market, those deep industrial ties helped secure sales. It still dominates with an 80 percent market share.