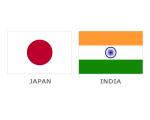 Japan to Double Investment in India Within 5 Years
Date: Sep 1, 2014
Source: The Wall Street Journal – By Mitsuru Obe
TOKYO—Japan's Prime Minister Shinzo Abe set an ambitious goal of doubling Japanese investment and the number of Japanese companies in India within five years, as part of an effort by the two countries to strengthen economic and security ties.
In a joint statement by Mr. Abe and visiting Indian Prime Minister Narendra Modi, Japan said it would aim for a total of ¥3.5 trillion ($33.6 billion) of Japanese public and private investment and loans to India over the next five years.

India's Prime Minister Narendra Modi, right, and Japan's Prime Minister Shinzo Abe shake hands before their talks at the state guest house in Tokyo on Sept. 1. Photo:Associated Press
The two leaders also touted progress in talks for the introduction of Japanese bullet train technology to India, saying they "look forward to the completion of the joint feasibility study on a high-speed railway system on the Ahmedabad-Mumbai route."
The two leaders also agreed to deepen security ties and look for ways to intensify their continuing two-plus-two dialogue involving the two countries' foreign and defense vice ministers.
The two nations said they would regularize their bilateral maritime exercises and welcomed progress in discussions aimed at exporting Japan's US-2 amphibian aircraft to India. They also said there was "significant progress" in negotiations for civil nuclear cooperation between the two countries.
The leaders pledged to realize the full potential of the bilateral relationship for "advancing peace, stability and prosperity in Asia and the world," the joint statement said.