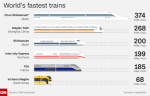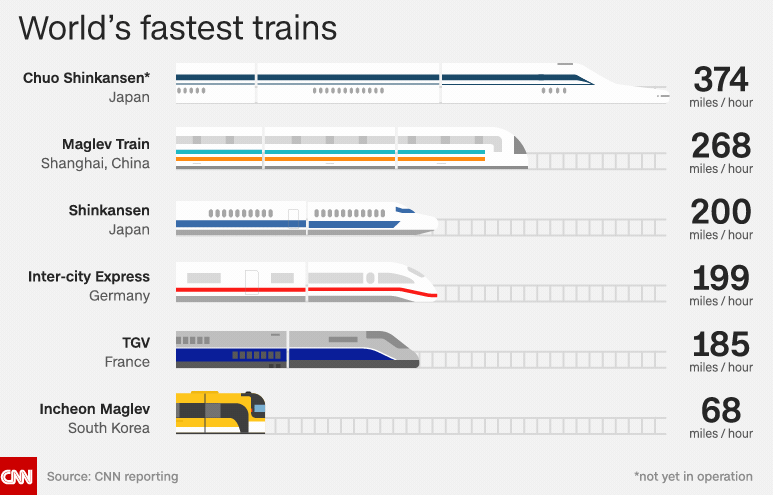 Can mega-fast maglev revive Japan's rail reputation?
Date: Nov 1, 2016
Source: by Andrea Lo, CNN
(CNN)When the record-breaking Shinkansen high-speed rail line opened in 1964, it was perfect timing.
That year Tokyo hosted the Summer Olympics, and Japan hogged the spotlight to debut the world's first commercial bullet train.
In 2020, the Japanese capital will host the Summer Olympics, and if you're getting deja vu that's because the Asian nation is once again shattering rail records.
The new Japanese maglev became the fastest train in the world after traveling at 374 miles per hour (603 kilometers per hour) on a test run near Mount Fuji last year, breaking its own world record of 366 miles per hour (590 km per hour), set the previous week.
Maglev trains — already operating at slower speeds in Shanghai and Changsha, in China, and Incheon, in South Korea — use magnetic repulsion both to levitate the train up from the ground, which reduces friction, and to propel it forward.
It is perhaps Japan's boldest rail innovation yet.
A long journey made short
The Chuo Shinkansen maglev line will link Tokyo to the southern city of Nagoya in 40 minutes — arguably making the maglev faster than flying, given the time it takes to get through an airport. There are plans to later extend the line to Osaka.
The 16-carriage train will be able to shuttle 1,000 passengers along the 177 mile (286 km) track.
Tomoaki Seki, a manager at the Central Japan Railway Company, which is developing the maglev line, says the company has been testing the technology since 1997.