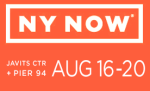 Japan Pavilion at NY NOW 2014 Summer
Date: August 17-20, 2014
Time: 9:00am – 6:00pm (8/20 2:00pm)
Venue: Jacob K. Javits Center, NY
Booth: 3986 (Japan Pavilion, Level 3)
Organizer: JETRO

JETRO is pleased to present the Japan Pavilion at The NY NOW 2014 Summer. The Japan Pavilion will be located at booth 3986 in Level 3 of Jacob K. Javits Center in New York.
Exhibitor List
About NY NOW
Drawing 35,000 attendees from all 50 states and 80+ countries, NY NOW® is produced twice annually by Emerald Expositions and is open to the trade only. Held in January and August in New York City, the Market hosts 2,800 exhibiting companies showcasing the very best lines across the home, lifestyle and gift spectrum.
What's New
The market introduced four new comprehensive market collections and a dynamic new exhibit floor layout, positioning New York as the defining marketplace for fashion-forward, design-driven home, gift and lifestyle resources. The show's transformation also includes new branding, as NYIGF becomes "NY NOW, the Market for Home + Lifestyle."
The market's reorganization into four collections – HOME, LIFESTYLE, HANDMADE and NEW – and the repositioning of related resources not only reinforces the depth and breadth of resources in the New York market, but also better reflects the way retailers are shopping and sourcing today.
Date: August 16-20, 2014
Venue: Jacob K. Javits Convention Center and Pier 94, NY
Official Site: http://nynow.com