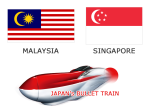 Japan eyes bullet train contract for Malaysia-Singapore route
Date: Aug 6, 2014
Source: Nikkei
TOKYO — The Japanese public and private sectors will join forces to have shinkansen bullet trains chosen for a high-speed rail project connecting Malaysia and Singapore.
Japanese Transport Minister Akihiro Ota will emphasize his country's high technological capabilities when he meets with his Malaysian counterpart and other officials during a visit to the Southeast Asian nation starting Aug. 12.
Executives from East Japan Railway, Hitachi, Sumitomo Corp. and Mitsubishi Heavy Industries will also accompany the trip.
The rail project aims to ferry passengers between Kuala Lumpur and Singapore, which are about 350km apart, in an hour and a half. The two countries hope to get the link up and running in 2020 and will decide on contractors through international bidding as early as next year.
Japan is keen to win the contract, which could be worth several billion dollars.