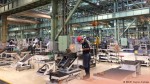 Japanese and German cooperation on Industry 4.0
Date: Oct 19, 2016
Source: www.dw.com by Manuela Kasper-Claridge
A machine-tool maker called DMG Mori has its headquarters in Iga. What's special about the company is that it's working on the next generation of industrial machines – the 'Industry 4.0' generation.
The Japanese town of Iga is postcard-pretty. The houses here in Mie Prefecture are graced by the flowing curves of traditional Japanese rooftops, and they sit calmly at the base of high hills clothed in majestic pine-woods. Traditional as Iga's neighborhoods may appear, however, there's something rather revolutionary brewing in this countryside idyll an hour and a half by automobile southwest of the city of Nagoya.
Automated decisions made by machines
DMG Mori's big research and development center in Iga is staffed by young engineers who were trained at Japan's elite universities. They design machines which communicate with one another and make decisions autonomously, guided by software and data rather than human machine-tool operators. Those designs are never final – the engineers continuously work on improving them.
The current state-of-the-art machines can be viewed in operation at the company's huge 3,500-square-meter exhibition room, a shiny, spotless place. There, nimble robot arms take parts and place them very precisely and quickly into position in tool-making machines, where they're processed.
A marriage of equals
"Business is going well," according to Takashi Okuda, head of project management at DMG Mori. "Our clients want more automation and more efficient capacity utilization of the machines – around the world."
Continue reading »